SE V13 NO W14 SE UCH NO UCH Lex Murphy Czech Mate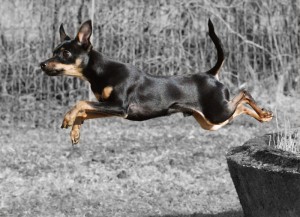 Primo is our first puppy from our own breeding. He was born june 27, 2011.
He is growning nicely, very promising boy indeed. 🙂
At his very first puppy show, the judge wrote "Champion Quality" in the comments. That made me so happy!!
At the MyDog INT show (puppy class), the judge immediately said "what a nice puppy!" when we entered the ring, and the he got a super critique. But best of all, in this super intense environment, he behaved like a PRO!
He's NEVER behaved this good in practice, haha!
At his very first official show he got CAC and won BOB!!
After that he was shown sparingly, but was still #4 Prazsky Krysarik in 2012, (#3 dog), he has won 7 CAC including the one at Tvååker 2013 where he became Swedish Champion only 2 years and 2 weeks old! =)
In 2013 he also tested in BPH (mentality test) with excellent result! He also won BOB at the Swedish Winner show 2013 in tough competition (24 krysariks), and ended up as #3 PK of the year!
In 2014 he was shown at the Norwegian Winner show where he was Best of Breed!
He also sired his first litter at Kennel Håfveleds, 2 gorgeous girls and 1 handsome boy.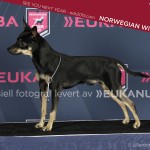 Primo's Results
2014
1xBOB, 1xNorwegian CAC, NO UCH, Norwegian Winner 2014
2013
SWE: 2xBOB, 2xCAC, SE UCH, Swedish Winner 2013
6xExc, 6xCK (6 shows)
2012
SWE: 3 BOB, 2 BOS, 5xCAC
8xExc, 7xCK (9 shows)

| | | |
| --- | --- | --- |
| | | |
| Primo's 2nd BOB |  Primo BOS | Primo with his first BOB and CAC rosettes |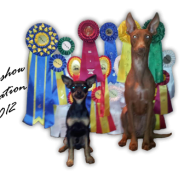 OMG! I don't even know where to start!! We went to the Högbo/Sandviken Cluster, a 3-day event with 3xINT All Breed KC shows. It was terrible weather, raining heavily so the showgrounds became a big mudhole in just hours (look at the pics from the friday finals…). I thought Lava would be dragging her feet, because she can be a bit sensitive to the weather when it's bad. She gets grumpy to say the least… 😉  BUT she actually behaved like the pro she's become: Mud upp to the hocks and still trotting like a star – winning Best of Group-4 on friday, shortlisted to Top-6 on saturday and Best of Group-3 on sunday!! 😀 I'm loss for words, in SIX straight shows she's been acknowledged in the group in really tough competition! I just want to thank all the judges at this time: Anita Whitmarsh, George Schogol, C-G Stafberg, Martin Croeser and Arne Foss for having the courage to pick Lava in all these wonderful line-ups! And of course a big thanks to the breed judges Svein Helgesen, Göran Bodegård, Per Svarstad and Gunnar Nymann for giving her the "tickets" to the group competition. 😉 THANK YOU for all the wonderful comments you gave on our gorgeous little girl!! <3 The last Best Of Breed was Lava's BOB #57, and she's now got 25 CACIB! To quote one of the judges from this weekend: "She's outstanding!" But what about Primo? Well, he did really well this weekend too! 🙂 On friday he got Exc-1 and CK and placed Best Male-4! Only 4 out of 10 males got CK! 😀But on Sunday's show, he did even better! He got super critique, Exc-1 and CK, and beat the Russian CH male and won BEST MALE!! Wohoooo! Only two dogs of 8 or 9 (?) got CK, and also two bitches got CK. He was BOS to BOB-winning Nea (gorgeous champion bitch). I am SO PROUD!!! Almost happier about his achievements this day than Lava's BoG-3! 😉 🙂 Thank you judges!!  And of course I have to shout out for my friends, who kept us company, cheered in the finals and also won a lot. You all know who you are… 😉Thank you all, and big congrats to all YOUR success too! 🙂 Wow, now we just have to land, being on cloud 9 is great but there is lack of oxygen here… 😉 😉 😉 See you all on the next show!!! 😀 ———————————————— RESULTS: Högbo INT, GÄKK 2012-08-31Status: International LAVAJudge: Per Svarstad, group judge: C-G StafbergChampion classExc-1, BB-1, CACIB, BOB, BOG-4!Comments: "Very beautiful whole. Beautiful feminine head. Long elegant neck. Beautiful topline. Nice rounded croup. Good depth of chest. Nice elegant legs, one in each corner. Exc coat and colour. Exc movement. Very well presented."  PRIMOJudge: C-G StafbergJunior classExc-1, BM-4Comments: "Well shaped head, good snout, dark eyes, exc neck, good back, good rear assembly, moves very well dispite the weather, good coat." ————- Högbo INT, GÄKK 2012-09-01Status: International LAVAJudge: Gunnar Nymann, DK, group judge: Martin Croeser, South AfricaChampion classExc-1, BB-1, CACIB, BOB, Shortlisted (top-6)!Comments: "Almost 3 yrs. Nice size, exc proportions. Correct snout and scull. Correct stop, eyebrow , nice ears. Correct scissor bite, nose pigment and eyecolour. Beautiful neck, exc topline and croup. Correct depth of chest. Nice underline. Normal angulations. Correct nail colour. Moves light and elegant with drive and reach." ———– Högbo INT, GÄKK 2012-09-02Status:...
read more