SE V13 NO W14 SE UCH NO UCH Lex Murphy Czech Mate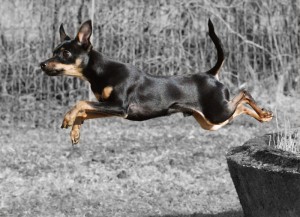 Primo is our first puppy from our own breeding. He was born june 27, 2011.
He is growning nicely, very promising boy indeed. 🙂
At his very first puppy show, the judge wrote "Champion Quality" in the comments. That made me so happy!!
At the MyDog INT show (puppy class), the judge immediately said "what a nice puppy!" when we entered the ring, and the he got a super critique. But best of all, in this super intense environment, he behaved like a PRO!
He's NEVER behaved this good in practice, haha!
At his very first official show he got CAC and won BOB!!
After that he was shown sparingly, but was still #4 Prazsky Krysarik in 2012, (#3 dog), he has won 7 CAC including the one at Tvååker 2013 where he became Swedish Champion only 2 years and 2 weeks old! =)
In 2013 he also tested in BPH (mentality test) with excellent result! He also won BOB at the Swedish Winner show 2013 in tough competition (24 krysariks), and ended up as #3 PK of the year!
In 2014 he was shown at the Norwegian Winner show where he was Best of Breed!
He also sired his first litter at Kennel Håfveleds, 2 gorgeous girls and 1 handsome boy.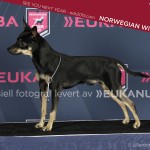 Primo's Results
2014
1xBOB, 1xNorwegian CAC, NO UCH, Norwegian Winner 2014
2013
SWE: 2xBOB, 2xCAC, SE UCH, Swedish Winner 2013
6xExc, 6xCK (6 shows)
2012
SWE: 3 BOB, 2 BOS, 5xCAC
8xExc, 7xCK (9 shows)

| | | |
| --- | --- | --- |
| | | |
| Primo's 2nd BOB |  Primo BOS | Primo with his first BOB and CAC rosettes |