Updated with BOB/BOS picture!
Today we went to Västerås NAT KC show. Time for Primo to make his debut in junior class, i.e. get his first official result.
Ooooh, I was SO nervous!
But Primo behaved like a little star, trotting pro-style full leash ahead!
A bit tense on the table, but all in all he did present himself very well. The judge seemed to like him, and I when I heard "excellent" I just smiled… and then it was concurrence, and Primo was almost immediately put in front of the other male, and when the judge said "CK" I almost shouted "YEEEEES" (but I just shouted inside my head and said "thank you" instead), because now I knew that he had won the CERT!!! (Only two males entered).
In the BOB/BOS competition, Primo again ran like a pro, and the BOB-rosette was PRIMO's!
I actually have trouble describing the feeling I have. Our first "homemade" little boy, takes his first CERT and BOB, the first time he is in adult class. The first CERT and BOB to the name Lex Murphy… It's really, really big for us! 
Big thanks to the judge, and to all our friends who has sent congrats via Facebook and SMS all afternoon! We feel so lucky today! =)
Results:
PRIMO
Judge: Torbjörn Skaar
Class: Junior
Result: Exc-1, CK, BM-1, CERT, BOB!
Comments: Very nice masculine head with dark eyes, well carried ears, good neck. Excellent body and structure. Excellent angulations in front and rear. Moves well. Well presented.
Kritik: Mycket bra maskulint huvud med mörka ögon, välburna öron, bra hals. Utmärkt kropp och benstomme. Utmärkta vinklar fram och bak. Rör sig väl. Välpresenterad.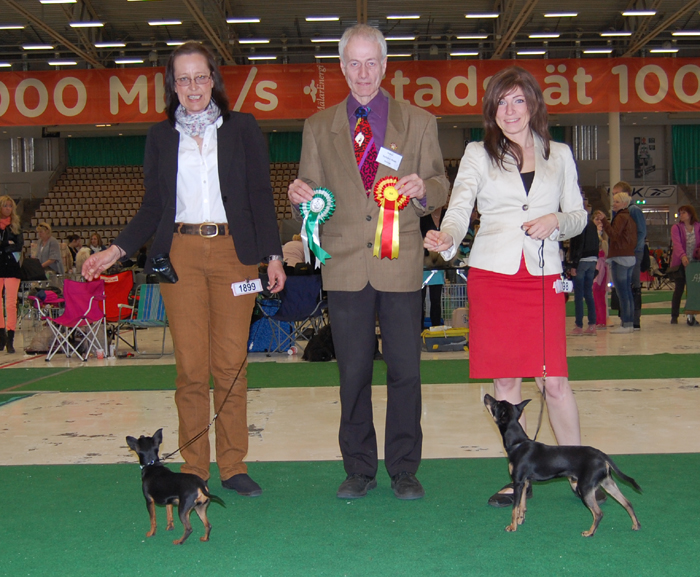 Thank you Pernilla Hansen for the picture!!