FDI INT UCH* NORD UCH SE UCH NO UCH DK UCH SE V-11 SE V-12 NO V-10 NO V-11 NO W-12 DK V-12 Nord W-11 Nord W-12 FIN W & JW-10 HelW & JW-10 Chininas Ursula Un Uragano Lieve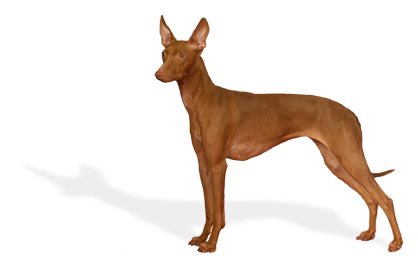 Lava is a beautiful Cirneco dell'Etna, and All Time Top Winning Cirneco in Sweden.
She had an outstanding first year in the show rings (or should we say outstanding months, since she wasn't 9 months until july…), with many titles won, placing in the group in her first Junior class appearance, and topping it off with "Most winning Cirneco 2010" in Sweden! She was also 2nd best Cirneco in Norway (3 shows), and placed 11th in Finland (only 2 shows!).
She has a stride and drive that is hard to find in the breed, and in 2011 she made several marks in the historybook: First she won BIS-1 at Sighthound Specialties from Intermediate class two times!
Then at the All Breed KC-shows she took another group 3rd, wich made her the only cirneco in Sweden placing in the group more than once. Just two weeks after, she placed 2nd in group, a new cirneco record! And just one week after that she actually won the group!!! A historical moment that we will treasure forever! Pics can be seen at the "highlights" page. In 2011 we also decided to start competing in Freestyle, wich is the perfect discipline for her! In september '11 she earned her first Freestyle title: FD I, wich means that she's scored qualifying points in three different competitions. She also earned her SE UCH (Swedish Champion), with a crazy record of 40 CAC, won many other titles, and was of course again the "Most Winning Cirneco" of the year!
In 2012, she's had her first litter and was back in the ring again better than ever, winning the GROUP at Eskilstuna INT just 14 weeks after the puppies were born!
After the groupwin, she continued to be noticed in the group for 7 consecutive shows!!  In 3 weekends at All Breed KC Shows, the results were as follows: Group 1st at E-tuna INT, Group-2 at Visby NAT, Top-7 at Visby INT, Group-4 at Högbo INT day 1, Top-6 at Högbo INT day 2, Group-3 at Högbo INT day 3,  Top-8 at Sofiero INT ! These were at some of the biggest shows in Sweden this year, and in tough competition with topwinning and BIS-winning dogs. To quote one of the judges: "She is OUTSTANDING!" 😀
2012 was topped off at the last and biggest show (Swedish Winner, entry 7500+ dogs) with BOB and Group-3!! Clearly she is once again "Cirneco of the Year".
Next year will be a bit slower for her in showing, since her babies are going up in official classes. But if you are lucky, you might see her here and there… 😉
Lava is so full of energy, loves to work, and is super agile and jumps with joy when ever I say "You wanna practice some?". She is a very special girl, always happy and loves everybody.
…Actually more like a Lab in a Cirneco suit… 😉
Lava was born 2009-10-15 in Sweden. Breeder: Carina Sjöblom, Heby.
Lava's Results
Total all countries, 2010-2012:
65 BOB, 4 BOS, 45 CAC, 31 cacib, 3 RCAC, 2 RCACIB from 78 shows!
2x BOG-1, 2x BoG-2, 5xBOG-3 and 1x BoG-4 at All Breed KC shows!
1xSBIS-3
2012 – Most winning Cirneco in Sweden and Norway (KC-winner) and Denmark (shared 1st place)
SWE: 19 BOB of 19 shows, 13 CACIB of 13 INT shows, 1xBoG-1, 1xBoG-2, 3xBoG-3, 1xBoG-4, 1xSBIS-3
NOR: 1 BOB, 1 CACIB (1 show)
DEN: 2 BOB, 1 CAC (DK UCH, NORD UCH) 2 CACIB (INT UCH*) (2 shows)
2011 – Most winning Cirneco in Sweden and Norway!
SWE: 26 BOB, 2 BOS, 27 CAC, 1 RCAC of 33 shows, 14 cacib of 14 INT shows, 1xBoG-1, 1xBoG-2, 1xBoG-3
NOR: 1 BOB, 1 CACIB (1 show)
FRA: 1 RCACS of 2 shows (Fr.Ch-show and WDS)
FIN: 1 RCAC, 2 RCACIB of 2 shows
2010 – Most winning Cirneco in Sweden!
SWE: 13 BOB, 13 CAC of 15 shows, 1xBog-3
FIN: 2 BOS, 2 CAC of 2 shows
NOR: 2 BOB, 2 CAC of 3 shows
Official results by country
Sweden:
59 BOB, 2 BOS, 27 CACIB, 40 CAC (11 at specialty shows), 2x BOG-1 (Backamo NAT , Eskilstuna INT), 2x BOG-2 (Ronneby INT, Visby NAT), 5x BoG-3 (Köping INT, Ransäter INT, Högbo INT, Mittnorden INT, StockholmINT "HUND12" ), 1xBOG-4 (Högbo INT)
SBIS finals:
1xBIS-3 (Enköping 2012), 2x BIS-1 (intermediate), 1x BIS-3 (Intermediate), 1 BIS-3 (junior), 2 BIS-R (junior)
Winner Titles:
SE v-11, SE V-12, NORD V-11, SE UCH
Norway:
3 Bob, 2 Stor CERT, 1 CACIB, NO V-10, NO V-11, NO V-12, NO UCH
Finland:
2 BOB, 2 SERT, Helsinki Junior Winner 2010, Helsinki Winner 2010, FI JW-10, FI W-10
Denmark:
2xBOB, 1xCAC, 2xCACIB, DK-V-12, NORD V-12, DK UCH
INT UCH* (to be confirmed) NORD UCH
Match shows:
1 BOG-puppy-4, 1 BOG-puppy-4, 2xBIS-puppy-1, 3 BoG-1, 1 BoG-2, 1 BIS-junior-R, 1xBIS-4, 1xBIS-R, 2xBIS-1
Brace w. Keios: 1 BIS-2, 1 BIS-1
For freestyle results, click here.
Pedigree:
S61451/2009
FDI SE UCH NO UCH DK UCH NORD UCH C.I.B* DK V-12 NORD V-11 NORD V-12 NO V-10 NO V-12 SE V-11 SE V-12 FI V-10 FI JV-10
Chininas Ursula Un Uragano Lieve
S68101/2005
INT UCH NORD UCH SE LCCH
Love Affair Of Double Star
LIR99/153108
IT CH WW-01
Gufo
LIR98/9693
Ron
LOI99/21104
Athena
SLRCE000034
BE CH HU CH INT UCH RO CH SK CH
Eega Beeva
FIN12722/98
EE CH FI UCH JEUW-97 KBH JV-97 SE V-97 SE&DK UCH
Lansmarte
SLRCE000014
FI UCH INT UCH LU CH SL CH
Baloo Seta Del Oro
S48648/2006
SE UCH
Are But Not's Fable N' Fairytale
FCPRS5191
NO UCH NO V-05 SE UCH
Daveru d'Lea
FCPRS4720
Seugippo
RI85309
Winemall Regalo De Providenza
N03738/00
NO UCH NO V-00 SE UCH
Are But Not's Adoreable Amber
N15677/98
NO UCH NO V-98 NORD V-98 SE UCH
Guliver Seta Del Oro
SLRCE000024
NO UCH NO V-01 SE UCH
Cinderella Seta Del Oro