My name is Maria. I live with my daughter Minou and our dogs in western Sweden.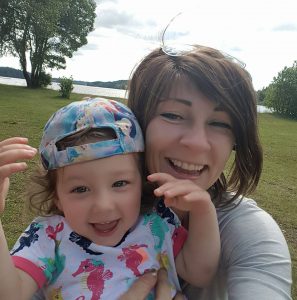 I work as an air traffic controller at Gothenburg/Landvetter Airport.
You can read more about each of our dogs on their own pages.
Our story of dogs:
I had a chinese crested some years ago, and when it was time for him to get a little friend, I searched long and wide for a smaller breed with great mentality. Finally I found the prazsky krysarik, a breed who wasn't recognized in Sweden by then, but I took help from a translator and called many breeders in Czech Republic to find out more and to find a puppy. Luckily I got hold of Vildes breeder, and booked a male puppy from her, 7 weeks before Vilde was even born.
After a long waiting I could finally go to Prague to get him, late summer '06.
In 2008 I bought Zelda, mother to my first PK litter. But I had been looking at the cirneco for a long time. Thus, in december 2009, Lava entered, and 3 months later Keios also joined. And then just a few moths later arrived the krysarik Härja, a long awaited very special girl.
I like to work with my dogs, but I also wanted to give something back to these rather uncommon breeds. The best way to help a breed is to make good combinations that will bring something to the future of the breed.
And with a well thought out plan for our future breeding, I just had to get a kennel name.
I decided after much thinking that the kennel name had to be Lex Murphy. If you know about "Murphy's Law", then you probably get the picture… 😉
Also, I have a car that I built some years ago. He named himself Murphy by his deeds, so it's nice to have the connection there aswell.
»Visit Murphy
In 2011 we had our very first litter, and the result was Primo. A gorgeous boy who of course stayed home with us. 🙂
Then in 2012 we had our first CdE-litter and second krysarik-litter.
Keios had some issues with our small and intense krysariks, and he moved to a family with no other dogs instead, where he is very happy. In 2013 we had our second CdE-litter.
Vilde and Härja moved to my mother's before Minou's birth, because a baby takes a lot of time. She says I can't have them back… 😉
And recently I found the perfect home for Primo, who now lives in Northern Sweden.
So I only have Lava and her offsprings Loki (first CdE-litter), and Tesla (2nd CdE-litter) at home.
Other hobbies have been horses. Showjumping, dressage, and the most awarding part: working with so called "problem horses". I also like to design stuff. web, clothes, logos, cars, you name it. I've built quite a number of websites so far, I'll put up some links later. In my spare time (when I'm not training or competing with the dogs), I put many hours into the clubs of breed, SPKK and SvFCK. I am also a member of the "club committee" (Föreningskommittén) in the Swedish Kennelclub, SKK and sometimes I work as a ring steward.
I hope that you will enjoy your visit at the website, and don't hesitate to contact me if you have any questions!
//Maria, Minou & all dogs