SBIS BPIS SE UCH NO UCH DK UCH FIN UCH NORD UCH
JUNIOR WORLD WINNER 2014 JUNIOR EUROPEAN WINNER 2014 SEV14 SEJV14 SEV15 SEV16 NOJW14 NORDJW14 NORDW15 NORDW16 DKV14 DKJV14 DKV16 FIW14 FIJW14 CZJCH
Lex Murphy Can't Get Enough
#1 CdE in Sweden 2014, 2015 & 2016.
Group Winner two times in Sweden2016 with BIS4 at INT show, and Junior Group Winner & Junior Best of Day at EDS 2014! Group Winner in Sweden 2017. Best In Show at the Norwegian Podenco Specialty 2016 & 2017!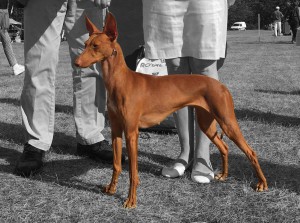 Tesla is the girl from our second CdE-litter that stayed at home. She is super energetic and soooo much fun. Quite small but square and have great head, topline, movement. A hunter for sure, always ready to strike down on pray.
In dog shows she has already exceeded any expectations by miles and miles again!
First of all, she won BIS-puppy at an All Breed KC show in Lidköping in may 2014, and that win qualified her to Puppy of The Year 2015! 😀
So, we had TWO qualified puppies for Puppy of The Year, Tesla and her brother Bacon! And when Bacon won his BPIS it was the first in Swedish CdE history.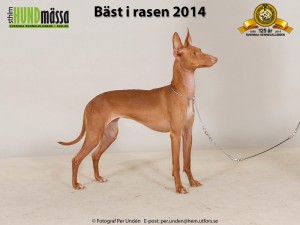 Now Tesla didn't stop at that. As a Junior she has "won it all": Junior World Winner 2014 and European Junior Winner 2014. At the Eurodogshow in Czech Republic she also won Junior Best in Group AND Junior BEST OF DAY (!!!) wich is probably the highest achievement in our breed at any WDS or EDS! To be one of the EDS top 4 juniors was also the best individual achievement for Sweden this year! 😀 And of course she got the Czech Junior Champion title too.
Tesla was also BOB at the Norwegian Sighthound Specialty 2014 and Best In Show-3!
At the Nordic countries Winner shows 2014 she won ALL junior titles: Danish, Finish, Norwegian, Swedish and Nordic Junior Winner and adult titles Danish, Swedish, Finnish Winner.
In 2015 she won BOB at MyDog and by that qualified for Crufts 2015. And recently she also won BOB at Swedish Winner 2015, winning another title to her name, SE V15. After that we had a long pause due to the birth of our daughter, but in October she finalized her championships in Sundsvall  and in December she was again BOB at Stockholm International Dogshow/Nordic Winner Show, and got the title NORDW15.
In 2016 and 2017 she has been shown sparingly, but nevertheless she has a SBIS-4 placing, 2xBOG2, 3xBOG3, BOG4 and 3 GROUP WINS! One of them at Gotland IDS 2016 (all breed), where she also placed BIS-4! Another mark in the history books for Tesla, it was the first time to our knowledge that at Cirneco has placed in BIS at an All breed KC Show (outside Italy). She also won BEST IN SHOW at the Norwegian Podenco Specialty! BOTH 2016 and 2017!! Guess how proud I am?! =D
Wonder if she ever will have enough…? 😉
Related posts from the blog: