NORD UCH SE UCH FI UCH DK UCH ES JCh DKJV-13  EUSH Clubwinner 2014
Lex Murphy Earthquake Effect 
Cirneco dell'Etna, male
From the 4 elements litter, born: 2012-05-11
Keiron is the sweetest boy ever, he is so gentle and loves to cuddle. He carries the most resemblance to Keios of all the puppies in the litter. He also has the best angulations and is very proportional. Great stride with super flexion!
Co-owner on breeding terms: Britzyk Bell, kennel Bellocean
Keirons results:
As a puppy: 3xBOB-puppy, 2xBOG-puppy-3, 1xBOG-puppy-4
Already as a junior he won several CAC, he is Junior Champion of Spain, Danish Junior Winner 2013 and in intermediate class he placed in BIS at a Specialty Show. He was best male at Skokloster Summer Show 2013 and he was the first in his litter to finnish the Swedish and Nordic Championship!
In june 2015, Keiron became father to a lovely litter of 4 girls and a boy at kennel Bellocean's.
But only days later, our tears of joy changed to tears of extreme sorrow… Keiron died in a terrible accident. The sweetest Cirneco of all, loved by every person he met, was too missed by the angels in heaven – and he was called home. With him he took big pieces of our hearts. <3 Even though we are grateful that his babies are doing really well, we still mourn the loss, and our thoughts are with his family Britzyk, Daniel and their other dogs. <3
Rest in peace Keiron, you will NEVER ever be forgotten! <3 <3 <3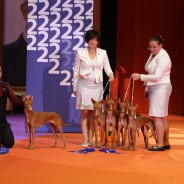 This year was the most important in our lives, because our daughter was born. 🙂 Some of the other highlights from our "normal" life was also the wedding of Mats and Renata (Godmother to Minou) and the Baptism of Minou. Because of the pregnancy we didn't show at so many shows – but we still managed to get some really nice results and memories – together with our puppy buyers and friends! 😀 Tesla and Bacon qualified to Puppy of the Year by winning Best in Show Puppy at KC all breed shows during 2014. First time ever that CdE has been qualified!! The POTY finals was amazing, held in the wintergreen at Gran Hotel in Stockholm. They behaved excellently, and wasn't first to be cut, but they weren't last either. We had a GREAT afternoon together with friends! Tesla (Lex Murphy Can't Get Enough) was also #1 Cirneco in Sweden 2015! Among her results was BOB at Swedish Winner and Nordic Winner with the titles. She closed her championship at the first opportunity in october and was BOB at two Cruft's Q shows. Bacon (Lex Murphy Bring Home The Bacon) was #2 best male 2015 in Sweden and during the year he had some great wins – Best of Group 3 at Tvååker NAT and Best of Group 2 at Visby NAT. Also SBIS 2 Intermediate in Visby. He closed his championship at first opportunity: Nordic Winnershow in Stockholm, where he was BOS and Nord W-15 and qualified to Cruft's. Loki (Lex Murphy Airborne Assault) was #5 best male 2015 (with only 4 shows!) and his best result was BOS at Swedish Winner 2015. Our co-owned Marley (Lex Murphy Hard To Be Humble) was #3 best male 2015 and won a great number of BOB's and CAC's, one of them was the CAC at the Swedish Winnershow! But his biggest win this year was Best of Breed at the Norwegian Winner show, with title, CAC and CACIB! 😀 He was also shortlisted in the group in Sweden, and was SBIS 2 Junior in Upplands Väsby and SBIS 2 Intermediate in Svenstavik. The championship was finalised at first opportunity in October. He was also evaluated in BPH (Mentality Test). Big congrats Mirka, we are sooo proud of you both!! Thank you for everything! <3 Apan (Lex Murphy I Snooze You Lose) competed a few times 2015 and placed #6 best cirneco male 2015. He took his final CAC at first opportunity in October. He was also BPH-tested, competed in agility, and he ran his first LC license runs! Hopefully Apan will get his license in the Spring and maybe compete some during the summer? 🙂 Big congrats Cathrine and Mathias, and thank you for doing such a great job with Apan! <3 We managed to get the breeders group together a few times only, but we got one of this years greatest memories at one show, winning an amazing Best in Show 2 Breeder at the Swedish Winner Show!!! Our Lava (Chininas Ursula Un Uragano Lieve) got to lead her babies around the ring at the Nordic Winner show, and in really tough competition we got second place – Best in Show 2 Progeny group! 😀 In Finland, Lumo (Lex Murphy Let's Get It On) finalised her championship in the best possible...
read more