Puppies born 11th of June 2012, a bit earlier then expected.
Sadly, the 2 boys didn't make it, but we are blessed with a gorgeous baby girl!
>>All related posts in the blog to Litter #3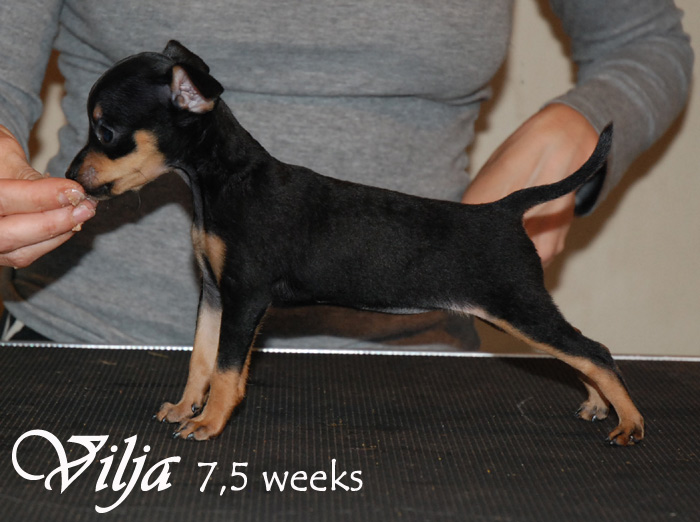 Härja
Lassie Dar minulosti
Q-Eliásek Cerná Orchidej – Cilinka Dar Minulosti
~21,5 cm, ca 2,2kg
PL-status: 0/0
+Everything! Well, perhaps a bit weak ears. 🙂
Rocca
Nejme's Breaking All Rules
Gabriel Podskalske Dolejsi – Dixie Z Vysehradskeho Podhradi
~24cm, 2,4kg
+Well angulated, good teeth, bite, coat, color, size, super expression, mentality and movement.
Inbreed koeff: 6,1%
What we hope for from this litter:
We hope for exceptional puppies! We really believe that this combination has all ingredients necessary for excellent puppies to see the light. Two beautiful, healthy krysariks with wonderful pedigrees and mentality.
But then again, you never know, could become the opposite too. 😉
What is the thought behind this litter?
-We keep, develop and double the legacy of Dar minulosti with this litter.
Nejmes Breaking All Rules
Gabriel Podskalske Dolejsi
Atysek Dar Minulosti
Eliska Tarim
Dixie Z Vysehradskeho Podhradi
Erik Od Hradu Bradlec
Dixi Kroe
Lassie Dar Minulosti
Q-Eliásek Cerná Orchidej
Enn Cerná Orchidej
Elis Bára Chov
Cilinka Dar Minulosti
Lord Z Vysehradského Podhradi
Cyrilka Hekezi
Belly pics: