There are not words big enough to express how HUGE this weekend's results are. For me, my breeding and for the breed too I hope.
In my wildest dreams I couldn't imagine the results at Strängnäs INT Allbreed KC show…
Our "babies" competed in junior class for the first time, and we also had a Progeny Group with Lava, and a Breeders Group.
I was soooo nervous before the judging, but all of them got excellent, and Loki was BM-1 and BOB with CAC and Elda BB-1 and BOS with CAC. Leo was JunKL-3 and Keiron JunKL-4. And both our groups won HP!! :)) Happy happy!

In the finals, the Progeny Groups were first, and believe it or not, but we WON! Lava (Chininas Ursula un Uragano Lieve) with her 4 babies: BIS1 Progeny Group!! ♥ (Judge was Jesper Andersson).
But no time to celebrate, the prejudging of the Breeders Groups had already begun! (Judge Bo Skalin) So, off to the collecting ring again. Lots of wonderful groups, and we thought that it would be difficult to even make the cut…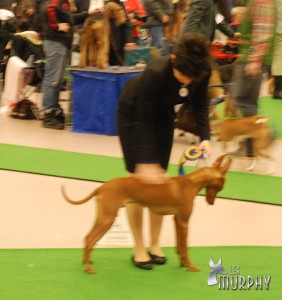 But we did! And even more amazing, we placed 2nd!!! Wohoooo!!! Crazy!! 😀 ♥ Only beaten by the wonderful group of wheaten terriers (same breeder who won breeder of the year 2011 and highly placed 2012). Sooo cool!!
But again: No time to relax and enjoy the moment – prejudging of Group 5 BOB-winners had already begun. (Judge Kurt Nilsson) Loki was a bit tired, but he did sooo well! My baby ♥
And to my awe and surprise, he was shortlisted to top-6! :-O
And when the judge then shortened the list to a Top-4, and we still were in the ring I think my heart stopped for a second.
I did NOT expect this, and soon enough, we were only two left. Jenny's lovely Pharaoh Qiwi ♥ and Loki. I suddenly realized that he was being placed 2nd in the Group at his very first show – and I couldn't stop my vision from blurring…
I can't believe it – they are still JUNIORS! It was their FIRST official show! Aaaaah!! Weeei!! 😀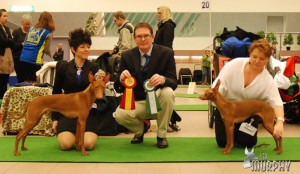 I'm so incredibly grateful to my wonderful friends -Britzyk, Renata and Åsa – What you did for me today can not be measured in gold. I am so happy that you were there to share this incredible day, and you all showed the dogs so well. Without YOU, none of this would have been real – it's would still be just a dream.
Thank you THANK YOU thank you!!! ♥ ♥ ♥ ♥ ♥ ♥ ♥ ♥ ♥ ♥ ♥
And a big thanks to Pernilla and Inger who helped us to get these precious moments on camera! ♥
Friends and unknowns who congratulated and supported us, and of course the judges, thank you too! 😀
Comment cards and results:
Breed judging: Jesper Andersson, SVE
Junior males:
Lex Murphy Airborne Assault – Exc-1, CK, BM-1, CAC, BOB, Best of group-2!
"9 months, square, elegant, masculine male. Well shaped head. Good eyes. A bit diverging ears. Very good neck, withers and back. A bit steep croup. A bit undeveloped chest. Good structure and feet. A bit steep upper arm. Good rear angulaions. Moves with enough stride, elbows out a bit. Nice temperament."
Lex Murphy Earthquake Effect – Exc-4
"9 months. A bit thin. Good shape of head. Could be a bit more filled out in the snout area. Good eyes. Good neck and withers. A bit sloping topline. Steep croup. Good shoulder. A bit steep upper arm. A bit weak pastern. Very well angulated in rear, toes out a bit in front. Moves with good stride and drive, elbows a bit loose. Nice temperament."
Lex Murphy Walk on Water – Exc-3
"9 months. Square, masculine, elegant junior male. Good shape of head. A bit diverging ears. Good neck. Strong back. A little steep croup. Good chest and bone structure. Balanced angulations. Moves with enough stride, elbows a bit out. Could be more confident on the table."
Junior Bitches:
Lex Murphy Fight Fire with Fire – Exc-1, CK, BB-1, CAC, BOS
"9 months. Square, elegant, feminin junior bitch. Proportional head. Could be a bit more filled out in the snout area. Good eyes and ears. Very good neck and withers. Strong back. A bit sloping croup. Balanced angulations. Good chest for the age. Good bone structure. Moves with enough length of stride. Could be more confident in the ring."
Progeny Group:
FDI SE UCH NO UCH DK UCH NORD UCH C.I.B* DK V-12 NORD V-11 NORD V-12 NO V-10 NO V-12 SE V-11 SE V-12 FI V-10 FI JV-10 Chininas Ursula Un Uragano Lieve
– PG Best of Breed, BIS-1
"Brood bitch. 4 offsprings from the same litter. Homogenous in type and expression. Similar construction and movement. Some individual differences in quality, but a really good breeding result."
Breeders Group:
Lex Murphy – BG Best of Breed, BIS-2
"Breeders group. 4 individuals from the same litter. Typical with homogenous anatomy. Similar movement. Some individual differences in quality."
Thank you ALL involved for the greatest weekend EVER! <3