We went to all Nordic countries' Winner shows this year.
First up was Danish Winner, where Marley took it all: BOB, CAC, Danish Junior Winner and Danish Winner 2014!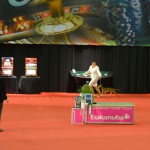 Tesla was also entered and was BOS with DK JW and DK W14.
After that it was Oslo/Lilleström, who also this year hosted the Nordic Winner Show.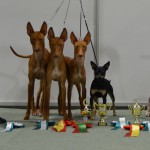 Results was amazing:
Primo could add 2 new titles to his name: Norwegian Winner 2014 AND Norwegian Champion!
He was also BOB (entry was 20+ krysariks)!
Tesla and Marley took the Norwegian Junior Titles, and Bacon was BOB at the Nordic Winner thus also won the Nord JW and Nord W14 titles. Tesla took again the junior title!
No time for rest: Off we went to Helsinki in Finland!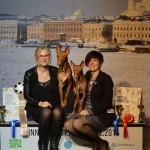 Again results was great: Kiro (Lex Murphy Fierce N Furious, exp. FIN) took Helsinki Junior Winner AND Finnish Junior Winner! And he was also 2nd best male with CAC both days!!!
And at the Finnish Winner show, Tesla was BOB with CAC and also the FIN JW and FIN W14 titles!!!
And finally at the Swedish Winner show in Stockholm:
Bacon won the SE JW14 title and Tesla took it all with BOB, Swedish Winner and Swedish Junior Winner 2014!!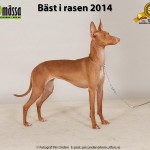 What a great year this has been, conclusion of all results will be coming soon.
A big BIG thanks to all our friends, puppy buyers, sponsors and supporters for an AMAZING 2014! <3