Yey! Puppies are finally old enough to go to puppy and match shows!!
So, today we went to Partille BK for some serious training. And what a great day!
Ok, the weather wasn't the best, quite cold, but at least no rain. 
We showed Elda, Loke and Leo, and the boys were in the same class obviously, so we don't have any pics from breed judging. =/
Leo didn't really want to trot today, but he was happy and behaved great otherwise.  Nice critique and placed second in class after Loke, who wasn't at his best standing, but moved really good. Both got HP (Honorary Award).
Elda also got HP, and in BOB/BOS-puppy she was BOS to brother Loke! 
Our pups was in the 4-6 months class (baby class), but in the finals, the classes was put together (so finals were for 4-9 months), so in the group we had to compete against older dogs. Loke was now getting the hang of it, showed brilliantly and WON!!! Weeeei!! Group-1st!! 🙂
AND in the Best In Show Puppy finals, he was BIS-2!!!!!! Wow! 😀 😀 😀
The happiness doesnt stop there, because our co-owned boy Keiron also went to a match show today, in the south of Sweden. He was BOB-puppy and shortlisted in the group!! 😀 Congrats Britzyk and Keiron, we are SOOOO proud of ALL our puppies today!!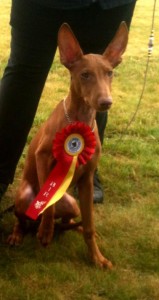 Lunds BK
Judge: Lars Ramberg
Puppies 4-6 months
KEIRON
HP, BOB, shortlisted in group!
Comments:
"Wellshaped head with enough gender characteristics, good snout, fitting eye colour, good ears. Good neck, shoulder and topline. Fitting body for his age. Well angulated in front and rear with fitting bone structure.
Good coat. Nice free movement, nice temperament."
Partille BK
Judge: Annika Sandberg (breed and group), Irene W Hjeltman (BIS-puppy)
Puppies 4-6 month (Finals 4-9 month) 
LOKE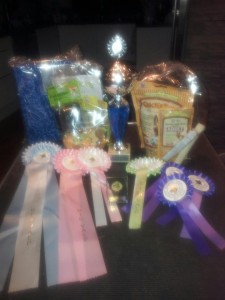 HP, BOB, BOG-puppy-1, BIS-puppy-2
Comments:
"Male puppy of exc type. Lovely head and expression. Beautiful ears and neck. Exc top- and underline. Nice legs and feet. Good angulations in front and rear. Moves very well. Nice temperament."
LEO
HP, 2nd in class
Comments:
"Nice male puppy of good type. Nice head and expression. Beautiful neck and topline. Nice legs and feet. Well angulated in front and rear. Beautiful coat and colour. Moves well when he wants to. Nice temperament."
ELDA 

HP, BOS-puppy
Comments:
"Feminine female puppy. Very elegant. Lovely head and expression. Beautiful neck and topline. Nice legs and feet. Well angulated in front and rear. Moves well. Good temperament." 

"Loke in the Group and BIS finals.
(We have no pics from breed judging since both Anders and I were quite busy…) ;))
I know it's "only a match show", but I'm really, really proud of our Lex Murphy cirnechi!! Feels like a big achievement for us. ;)"
From Partille BK match show, posted by Maria Weinehall on 9/22/2012 (8 items)
Generated by Facebook Photo Fetcher