Last weekend we went to Vallentuna north of Stockholm.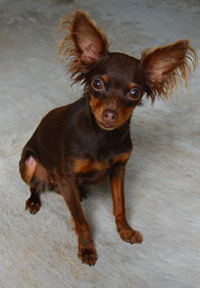 The cirnechi was entered in the show "Minnesutställningen" (Memorial show), wich takes place every 2 years. And our 4-year old longhaired brown krysarik-girl Bambi was entered for muster of the swedish PK-registry. The mustering was open to all krysarik-looking dogs to strengthen the breed and enlarge the swedish genepool. And what happiness, Bambi was approved!! Of course our co-owner and Bambi's "dad" Calle was extremely proud aswell. =) She has her own page on our site, so go there if you want to learn more about Bambi.
Here are the judges' comments of Bambi:
"Elegant, of nice size and collected body. A bit weak upper arms. Well developed chest, good topline. Good tailset. A bit loose elbows and short rear stride. A bit soft coat, and short coat. Good ear fringes. Positive and outgoing. Lots of plaque."
Well, apart from the last sentence (let's hope that "dad" is brushing her teeth everyday now…), the comments are really accurate.
The show results was both good and bad. Lava didn't get CK because she is "missing forechest" (wich is quite funny since the breed shouldn't have too much forechest…), but Keios did well and got another CAC. Also Lava's half-sister Samantha got CK and CAC, wich made her Swedish Champion!! So Lava's loss wasn't in vain, and we are so happy for Samantha! Keios was the judges favourite though, as he won the BOB.
New shows next weekend!