Minnesutställningen, Stockholms KK 2011-08-07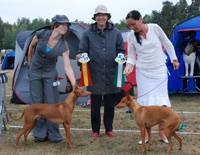 Status: National
Judge: Hanne Laine-Jensen, Denmark
LAVA
Intermediate
Exc-1
Comments:
Elegant, fitting long tail. Feminine oval head with beautiful eyes and ears. Elegant neck, acceptable shoulder, but no forechest. Good topline and tail. Unstable in movement, rear moves with elasticity. Nice color and coat.
———-
KEIOS
Intermediate
Exc-1, CK, BM-1, CAC, BOB
Comments:
Elegant, correct chest, noble oval head, well placed ears, excellent snout and bite, beautiful neck, acceptable topline, good croup and tail. Well angulated with light elegant movement. Nice coat.