A rainy day in Borås where Loki was BOB w. CAC, Keiron got CK and both Leo and Elda got Exc!
Our Progeny Group was placed BIS-1 and our Breeders Group was BIS-4 again in really tough company!! Amazing!
BIG thanks Britzyk and David for handling, and extra thanks to Monia Wergård for the photos from the main ring of our groups!
RESULTS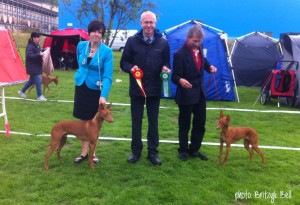 Judge: Hans Almgren
LOKI
Junior class: Exc1, CK, BM-1, CAC, BOB
"A tight and wellbuilt 13 month male. Firm ears wich are thin and well carried. Slightly diverging parallell planes on the head. Excellent neck setting, tight back, lightly inclining back from withers to tail. Beautiful curvation in underline. Smooth dry skin, beautiful color. Relaxes well in the rain."
KEIRON
Junior class: Exc2, CK, BM-3
"On the upper side well proportioned with excellent head, enough length in muzzle, wellcarried dry ears, long neck, excellent setting to body, enough depth in chest, beautiful shape and underline, compact high paws. A bit tense in the rain – the croup gets too steep. Beautiful color, excellent skin, nice movement, quite good movement from the side."
LEO
Junior class: Exc3
"A beautiful head with good balance scull-muzzle. Well carried firm ears, enough gender characteristics, a bit more depth in chest, firm back, a bit steep croup which is enhanced by the weather. Needs more robust bone to the size and body. Dense coat with good hardness, good neck setting, needs to extend the stride more. Beautiful color."
ELDA
Junior class: Exc1
"A bitch still in development, excellent proportions with beautiful gender characteristics. Nice head with firm and well carried ears. Strong jaws with good bite. Typical declining under jaw. Well set neck, pretty good front with buoyant pastern. Beautiful paws. Very nice silhouette in standing. Needs deeper chest. Dense, hard coat. A bit high in rear in movement. Good muscles for the age."
LAVA
Progeny Group-1, HP, BIS-1 (Orietta Zilli, IT/USA)
"Mother with 4 offsprings, 1 combination. Beautiful heads, long and well set and carried ears, Good gender characteristics. Fine chissled under the skin. Healthy fronts, all are square. Good sizes, beautiful lined with excellent coats and colors.  An honorary bitch which has left many of her qualites to her offsprings. CONGRATULATIONS!"
LEX MURPHY
Breeders Group-1, HP, BIS-4 (Dr Robert A. Indeglia, IT)
"A harmonic group, highly uniform of very high quality, lots of the breed's details are in this group, see progeny group comments. Continue this way!"