Tvååker NAT, Hallands KK 2011-07-16
Status: National
Judge: Peter L Jensen, Denmark
LAVA
Intermediate
Exc-1
Comments:
21 months. Feminine wholeness. Nice head w. good lines. Good length and width of scull. Stop and nose are fitting. Acceptable filling of cheeks and ear placement. Eyes bite and pigment are exc. Good neck and topline. Well shaped croup, acceptable fore chest. Enough developed ribcage. Fitting substance of the rear, enough mass in the structure. Good color and coat. A bit stiff in the shoulder. Moves nice in front and rear.
———-
KEIOS
Intermediate
Exc-1, CK, BM-1, CAC, BOB
Comments:
18 months, well built male. Good type & size. Expressive head w. good lines. Good length and width of scull. Fitting stop, exc nose. Eyeshape, eye color, bite and pigment is exc. Well placed ears, classy bend of the neck. Good topline, exc fore chest, enough width in ribcage. Strong rear, well angulated in front and back, strong legs and feet. Good color. Moves exc in front and back. Very good mentality.
____________________________________________
Tvååker INT, Hallands KK 2011-07-15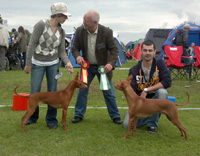 Status: International
Judge: Per-Harald Nymark, Norway
LAVA
Intermediate
Exc-1, BB-1, CERT, CACIB, BOB
Comments:
21 months old bitch of exc type, feminine breed typical head, correct ears, well developed body. A bit straight in the shoulder and upperarm. Acceptable angulations in rear. Exc coat quality and color. Harmonic movement. Exc mentality.
———-
KEIOS
Intermediate
Exc-1, BM-1, CERT, CACIB, BOS
Comments:
18 months old male of exc type, noble breed typical head, elegant neck, very good developed chest for the age, fitting angles in the legs all around, good bone structure, exc coat quality, good temperament, a bit underplaced in rear in movement.