SE UCH NO UCH NO V-11 SE V-11 Nord W & JW-10 Colombian Friends Golden Pepper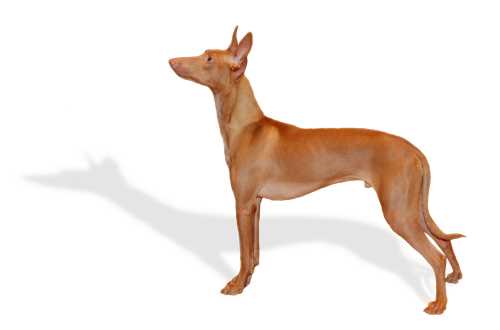 Keios is a masculine cirneco male of good size. a bit shy, but always sweet and friendly.
In 2013, he moved to Johan and Alexandra in Stockholm. We miss him a lot, but he has the best home ever and no other dogs to compete with for attention. 🙂
During 2010 he did good in the show ring, winning BOB at Nordic Winner for example. He was best cirneco male, and 4th best cirneco in total in Norway.
His best features are his well developed chest and his exc rear angulations. With a bit more drive, he might move even better than Lava… 😉
He continued to do well in show rings during 2011, and was the 2nd most winning cirneco in Sweden, beaten only by our Lava. He was also BIS-3 at the Sighthound specialty in Sundsvall!
In 2012 he earned his SE UCH with CAC #30 (!).
He loves to cuddle and play fetch (Frisbee!!), and we practiced obedience with good result.
If he could speak, he would probably say "Mooooooh..?" =) Not the sharpest knife in the box maybe, but oh so lovely! (JK, he is really smart, just comes across as the opposite sometimes…).
He sired his first litter with our Lava in 2012.
Keios is not available as stud male!
Keios was born 2010-01-14 in Finland, breeder: Marina Isaksson.
Keios Results
Total:
9 BOB, 26 BOS, 32 CAC, 15 cacib of 48 shows
2012
SWE:  2 BOB, 3 BOS, 2 CAC (then SE UCH), 4 CACIB of 5 INT shows
2011
SWE: 6 BOB, 19 BOS, 25 CAC of 33 shows, 10 cacib of 13 INT shows, Swedish Winner 2011
NOR: 1 BOS, 1 CAC, 1 CACIB, Norwegian Winner 2011
2010
SWE: 3 BOS, 3 CAC of 4 shows
NOR: 1 BOB, 1 CAC of 1 show, Nordic Winner 2010, Nordic Junior Winner 2010
Official shows by country
Sweden:
6 BOB, 22 BOS, 10 CACIB, 28 CAC (7 at specialty shows), SE V-11
SBIS finals:
1x BIS-3, 1x BIS-2 (intermediate), 1 BIS-4 (junior)
Norway:
1 BOB, 1 BOS, 2 CAC, 1 CACIB, NORD JW-10, NORD W-10, Norwegian Winner 2011
Match Shows:
1 BOG-PUPPY-1, 1 BOG-PUPPY-R, 1 BIS-puppy-4, 1 BIS-puppy-3, 1 BIS-puppy-2, 1 BIS-puppy-1
Brace w. Lava: 1 BIS-2, 1 BIS-1
Pedigree:
SE25928/2010


NORD V-10 SE V-11


Colombian Friend's Golden Pepper
FIN30394/06


EE CH FI UCH LV CH


Colombian Friend's Chili Pepper
FIN23112/05


CH EE CH FI UCH INT UCH LT CH


Colombian Friend's Golden Gift
FIN29944/03


INT UCH NO UCH SE UCH SE V-04


Giltedged Reloaded
FIN37324/01


EE CH FI UCH INT UCH LT CH LV CH RU CH


Iosono Milla Magia
FIN29580/04


EE CH FI UCH INT UCH LT CH RU CH


Kimblewick Jill
FIN22259/99


FI UCH INT UCH NORD V-03 SE UCH SE V-02 SE V-05


Giltedged Implication
FIN40243/00


FI UCH NO UCH SE UCH


Gaia
FIN23115/05


EE CH FI UCH INT UCH LT CH


Colombian Friend's Golden Colombia
FIN29944/03


INT UCH NO UCH SE UCH SE V-04


Giltedged Reloaded
LOF00107/00023


INT UCH


Jericho-Jamis De Percyval
FIN22261/99


FI UCH SE UCH


Giltedged Inspiration
FIN37324/01


EE CH FI UCH INT UCH LT CH LV CH RU CH


Iosono Milla Magia
LOITC049206


IT CH


Toto
FIN23313/99


EE CH FI UCH INT UCH SE UCH


Bambi