SBIS NORD UCH SE NO DK FI UCH CIB* SE V-15 NORD W-15 NO V-13 HelW-13 EUSH Winner 2014
Lex Murphy Airborne Assault
Loke is one of the boys in our first CdE-litter, out of Lava and Keios.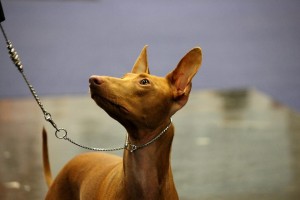 He was born 11th of May 2012. I think he is the one that is closest to 50/50 similarity to Lava and Keios.
He's got super movement, covers so much ground with lovely flexion.
I think some might say that his head is more to the Pharaoh style head, but I will disagree. He could have more stop, but he has excellent proportions and ears, and the color and eyes are just amazing. He has a masculine head. He is the manly man for sure, lifting his leg when peeing since he was 6 weeks (!!!) old!
You have to see this gorgeous and happy boy in a show ring! 😉
Show results for Loke:
Official shows: Many CAC, CACIB, BOB's and BOS's. BIG2, BIG3 and BIG4's!
Greatest win: Best In Show at Norwegian Podenco Specialty 2013!
Junior Handler dog at EDS 2014: Placed 2nd (!) out of 70+ competitors.
Available to stud.
Puppy results:
| | |
| --- | --- |
| Match Show Partille BK | BOB-baby, BOG-1 puppy, BIS-2 puppy |
| Match Show SÄKK | BOB-baby, BOG-2 puppy |
| Match Show SK Borås | BOB-baby, BIS-1 Baby |
| SvVK Specialty, baby class | BOB-baby, BIS-2 Baby |
| Danish Winner Show | BOB-baby |
| Nordic Winner Show | BOB-baby |
| MyDog 2013 | BIS-4 Puppy |

(Baby class = 4-6 months, Puppy class = 4-9 or 6-9 months, in the finals they often add baby and puppy together = Puppy BOG/BIS)