BPIS SE UCH NO UCH JEUW14 NORDJW14 NORDW14 NORDW15 SEJV14 CZJCH
Lex Murphy Bring Home The Bacon
Bacon is a lovely boy that we kept from our second CdE-litter (litter #4) – the "Seven Sins"-litter.
He is quite moderate in his angulations, but balanced. And he's got FANTASTIC movement with exceptional reach and perfect topline.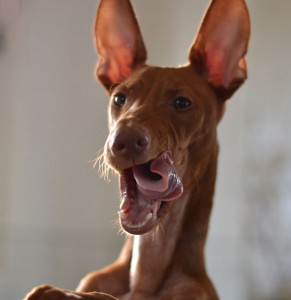 He started off his show career by winning Best in Show Puppy at the All breed KC Show in Sundsvall in April 2014, and that win qualified him to enter Puppy of The Year 2014  (finals in 2015)! The first Cirneco in Swedish history to win BPIS! 😀
Other great results: he won the title European Junior Winner 2014. And he got the Czech Junior Champion title too.
Bacon was also BOS at the Norwegian Sighthound Specialty 2014.
At the WDS Club Show, Bacon won BEST MOVEMENT out of 53 Cirnechi! Judge was one of the 3 "real" breed specialists, Sicilian breeder and FCI judge Vincenzo Todaro. Bacon was also BOB Junior and later in the finals BEST IN SHOW Junior, and he was BIS Brace together with Tesla.
He also won the titles Nordic Winner, Nordic Junior Winner and Swedish Junior Winner.
In 2015 he won BOB at MyDog INT and by that his first CACIB. He finalized his championships at the big Nordic Winner Show in Stockholm in December, and was best male with the title NORDW15.
We have also recently tried him at the track, where he show excellent hunting instincts!
Related posts from the blog: