Great day in the sun! Our little girl Elda won her very first BOB, entry was 5 CdE. She is not ready for the main ring, but we entered for training purpose anyway of course. 🙂 Loki was BOS, Leo and Keiron both got CK! Happy!! 😀
Our Progeny Group was placed BIS-1 and our Breeders Group was BIS-4 in really tough company!! Wohoo!!
Thank you judges for appreciating our dogs and for putting them on display in the finals, it's so important for our breed to be seen! 🙂
BIG thanks to dear friend and co-owner Britzyk for making these results possible – weekend after weekend!
And this time also big thanks to Lotta, Mirka and Madelene for helping me showing our beloved youngsters with style!
RESULTS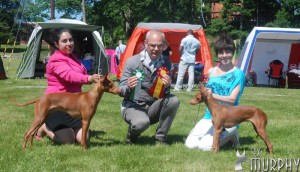 Judge: Svante Frisk
ELDA
Junior class: Exc1, CK, BB-1, CAC, BOB
"Very good size, correct curviness, noble, fine chisseled head. Good jaws, scissorbite, good width between the ears, typical topline, nice angulations in front and rear, good forechest, moves a bit narrow in behind, still a bit loose in front, nice movement from the side,  lovely temperament."
LOKI
Junior class: Exc1, CK, BM-1, CAC, BOS
"Big male with nce lines, good shape of head, typical ears, scissorbite, nice expression, good neck, enough falling topline, good angulations in rear, good shoulder and upper arm, defined point of forechest, enough depth in his chest, moves a bit narrow up and down, nice movements from side, dignified stride, red beautiful color."
LEO
Junior class: Exc2, CK, BM-3
"Good size, good proportions, nice ears, very nice expression, scissorbite, good neck, strong back enough falling, fitting angulations in rear, enough angulations in shoulder, good upper arm, defined point of forechest, chest with good filling in the bottom, moves parallell in rear and front, a bit high loin in side movement. Good color, nice temperament."
KEIRON
Junior class: Exc3, CK, BM-4
"Big, good lines, beautiful head, nice ears, scissorbite, godd arch of neck, needs a bit stronger back, good shoulder and upper arm, stand a bit close in front, moves a tiny bit loose in front, good in rear. Typical movements from the side. Beautiful red color, nice temperament."
LAVA
Progeny Group-1, HP, BIS-1 (A. Johansson)
"Very beautiful heads. The parent has imprinted her offsprings well, very typical movement from the side, excellent proportions in total, some size variations."
LEX MURPHY
Breeders Group-1, HP, BIS-4 (A. Johansson)
"Very typical heads and expressions, carries the ears beautifully. Nice side movements, typical. Sufficiently even toplines, equal angulations in front and rear on all 4 individuals. Good luck with your future breeding deeds!"