Wow… so much happened, and still I find myself loss for words.
Lava ended the year of showing 2012 UNBEATEN in breed, added another title to her wins AND … she even placed 3rd in the GROUP! 😀 It's almost unbelievable, because Stockholm HUND is our biggest show of the year, the competition is bigger and the atmosphere is so special.
Added 2013-02-18
Movie from group judging

But I think I have to start from the beginning…
For the last couple of months, we have been preparing our breed booth. For the first time Cirneco had a stand at the "Discover Dogs" square, and as you might understand it's hard work to get everything together.
I was misfortuned  enough to have a big cold tha last weeks, AND get tooth ache a week ago, and even though I went to the dentist on Monday, the pain just got greater. I was supposed to start driving to Stockholm on Friday morning, but woke up at 5 from the pain. My wonderful dentist had the day off, but went to work anyway just for me. And this time the result was better, a bit sore but managable pain now.
So, I actually got going only 1 hours later than planned.
I met with Ewa at the fairground around 1700, and we put up the booth with pen and everything. 🙂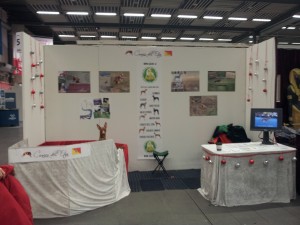 I was supposed to stay at Renata's, but the weather was really bad and Britzyk was travelling with some other friends and arriving around 2300.
I wasn't really happy about driving my little Cooper in the snow, first to Renata (about 80km) and then going back again the same way plus 30km to pick up Britzyk. I was already tired due to the lack of sleep the day before, and really needed the rest. But then Bitzyk got the great idea to book a Hotel room closer to the fair! So, while waiting for her I was supposed to check in and get some rest before going to pick her up, BUT the "hotel" was AWFUL. Carpets stained and from the 70's probably. NO parking space. NO breakfast!!! I called and said that the hotel was a no-go. But Britzyk had another hotel on the list that had rooms available. So I drove there instead, just to find out that the room didn't even have a toilet!
OR WINDOWS!!!  😯
Finally I booked us at the hotel in the same building as the fair instead! 😉 Great room, great breakfast, BIG windows and just 75 meters to the entrance. Exceptional!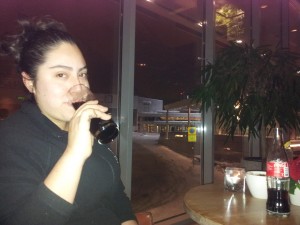 Ok, so how about the show?
Britzyk showed her minpins Loka and Divo. Divo first out in Junior Class, and he won the quite big class! Wohoo, Swedish Junior Winner 2012! Congrats dear Britzyk, Divo is just gorgeous, and what a mover!
Here is a clip of the Junior Class competition:

The judge was really tough, but she gave exc and ck to both Loka and Divo, Loka was placed 2nd in Ch-class, and Divo was best male-5.
Super results!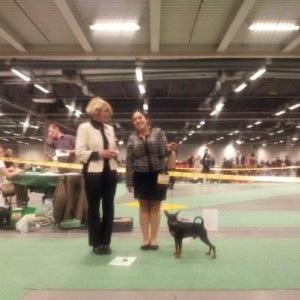 The rest of the day I and Lava was in the breed booth and around there, so I didn't see much of the finals or the rest of the fair.
But I could follow the finals via Live streaming!
So big, big congrats to dear friends Ray and Jörgen for Group-4 and Group-3 in the Sighthound Group, very well done!!
During the day, the snow was falling heavier and heavier, and the wind increased a lot. So we decided to stay another night at the hotel since Lava was going into the ring as dog number 8, and we didn't want to risk being stuck in a snow pile in the morning. 😉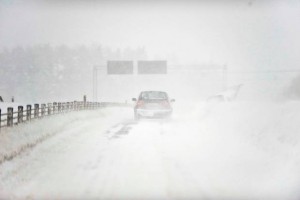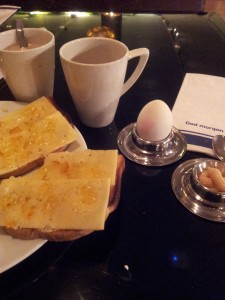 Come sunday (and breakfast), and a HUGE entry of Prazsky Krysarik: 30 dogs! I think that was a new breed record for an official show.
I didn't bring Primo though after all, so I guess they were 29. 🙂
I was in the cirneco ring at the same time. 5 entered dogs.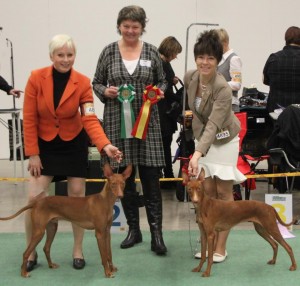 The nice junior male Pablo won best male, and Lava was the only female and won best bitch. The judge really loved her (scroll down for judges comments), and after just 1/5 lap around the ring in BOB/BOS competition, she waved with the red rosette for Lava! Wihooo!! BOB and Swedish Winner 2012!!! 😀 😀 😀
Now, quickly to the krysarik ring, just in time to see Primo's father Rocky win the Champion class! 😀 And Renatas other male Hugo won Junior class, so I showed Rocky in best male. Amazingly enough, Hugo won best male, AND Rocky placed BM-2! 😀
Jonna was super happy with the placings aswell, as the result means that her male Zipper won "Krysarik of the Year" for the second year in a row!
Renata and Angelica's young female Saphira did very well too, best junior-2 after Jonna and David's lovely long haired female Fjollan, who also won best bitch!! Hugo won BOB and Fjollan of course BOS, HUGE congrats to you all my dear friends!!! Well deserved wins! <3
But what time is it now? OMG, it's time to get dressed for the "breed parade". I was dressed out as a "typical" mob boss, since Cirneco comes from Sicilly. 😉 We got big applauses. 🙂
After the parade, we had an hour or so in the booth before it was time to go to pre-judging for the finals.
Lava held up amazingly,  all saturday in the booth, judging and parade on sunday + breed booth. She was tired, but she was still happy. 🙂
The Finnish judge (Tapio Eerola) was thorough and looked long and hard on all dogs.
And suddenly it was time to enter the main ring!
Big audience, fanfares, spotlights etc, a great feeling to run in the finals at Stockholm HUND!
In this movie clip below, Group 5 starts at 01:25.

The judge started picking dogs for the cut, and it was the Husky, the Pharaoh ("Qanel", congrats Jenny!) AND LAVA! AAah! 😀 What an honor to make the cut at the biggest show of the year!
There was also Samojed, Basenji ("Yra", congrats Sofie), Lapponian Herder, Swedish Wallhund, Chow Chow and Pomeranian that made the first cut. We all ran one lap together, and then the judge started picking again. He walked passed the Husky… the Pharaoh… could see him looking at us, and I was sure that he was going to let us go – but instead he pointed us into the center of the ring!!! AAAaaah! Final cut, we where actually going to be placed at Stockholm HUND!!!
Now the judge had us running up and down and around individually, and the it was time for placings. Lava was placed THIRD! 🙂
Group-3 at this huge show (entry 7555 dogs!) – it's UNBELIEVABLE! I still can't grasp this…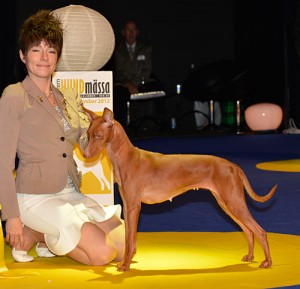 Soaring on little pink clouds, the dismount of the booth, packing of the car and the long drive home was easy.
I feel so humble and blessed by all experiences this weekend. So grateful that I have the very best friends one could wish for, and so happy that they all had such successful weekend too!
If I forgot to mention any of you, it is only because so much happened this weekend, and I probably missed some of you completely.
One year of competing has come to an end, a summary will be posted soon. But the next big show is just around the corner – see you all at MyDog 2013 in January! <3
RESULTS
2012-12-16
Stockholm HUNDmässa 2012, Swedish Winner Show
Cirneco dell'Etna
Judge: Björg Foss, Norway (Group: Tapio Eerola, Finland)
LAVA
Champion class
Exc-1, CK, BB-1, CACIB, SE V-12 and BOB AND Group-3!!
Comments: "Champion bitch of very high quality. Excellent size and proportions. Beautiful head. Very good ears. Long and elegant neck. Typical angulations in front and rear. Correct top- and underline. Good volume. Moves very free and effective."