Ransäter INT day 3, Värmlands KK 2011-07-31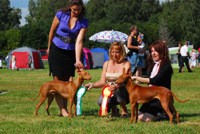 Status: International
Judge: Manola Poggesi, Italy
LAVA
Intermediate
Exc-1, BB-1, CERT, CACIB, BOB
Comments:
46cm
Very friendly. Nice head & expression. Correct ears. Quite compact body. Good bone and feet. Correct in size. Moves free.
———-
KEIOS
Intermediate
Exc-1, BM-1, CERT, CACIB, BOS
Comments:
48,5cm
Masculine head. Correct scissorbite. Nice expression. Correct ears. Good body proportion. Good color and quality coat. Moves free. Correct tail carriage, excellent. 🙂
—————-
Judge: Arne Foss, Norway
Härja
Junior
Exc-2
Comments:
Very appealing junior, nice completeness, excellent gender characteristics. Very good headshape, nice eyes, must not be longer in snout, not perfect bite, good topline, very nice movements from the side, w. lovely attitude. Fantastic temperament! Well presented.
____________________________________________
Ransäter INT day 2, Värmlands KK 2011-07-30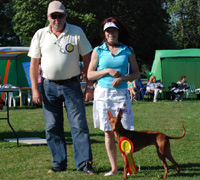 Status: International
Judge: Göran Hallberger
LAVA
Intermediate
Exc-1, BB-1, CERT, CACIB, BOB, Shortlisted
Comments:
Typical head, good gender characteristics. Well bodied. Good bone structure. Ordinary angulations. Typical movement. Coat and color satisfactory.
———-
KEIOS
Intermediate
Exc-1
Comments:
Masculine head of good model. Missing one P2. Good body. Enough bone-structure. Ordinary angulations, good movement, good coat and color.
—————-
Judge: Dan Ericsson
Härja
Junior
VG
Comments:
Feminine, still very undeveloped bitch. Too much arched topline in movement. Good coat and color. Needs to develop. Shows nicely.
____________________________________________
Ransäter INT day 1, Värmlands KK 2011-07-29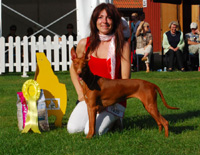 Status: International
Judge: Per-Erik Wallin
LAVA
Intermediate
Exc-1, BB-1, CERT, CACIB, BOB, BOG-3
Comments:
Very elegant bitch of high standard. Lovely head, expression. Exc eyes, ears. Noble neck. Good shoulder, wellshaped ribcage. Moves very elegant. Exc. legs and feet. Lovely charisma.
———-
KEIOS
Intermediate
Exc-1, BM-1, CERT, CACIB, BOS
Comments:
A lovely male with beautiful lines. Noble head, very good profile. Dashing neck, defined withers. Strong back, good croup, wellshaped ribcage. Exc legs and feet. Very elegant and functional movement. Exc temperament and coat.
—————-
Judge: Lena Stålhandske
Härja
Junior
Exc-1
Comments:
Good size. Feminine head. Dark beautiful eyes. Nice ears, correct bite, good neck and back. A bit low tailset. Nice straight frontlegs. Good rear angulation. Beautiful coat. Moves quite well, but constricts the back in movement.