2011-12-29
Summary of the year 2011!

In Sweden our cirnechi entered in 33 shows, won 33 BOB (Lava 27, Keios 6), 1 SBIS-3, 2 SBIS-1-intermediate, 1 SBIS-2 Intermediate, 1 SBIS-3 Intermediate and 1 SBIS-3-junior, BoG-3, BoG-2 and a BoG-1 at SKC shows. 24 CACIB of 27 possible.
In addition to the group placements, Lava also made the cut in the group 4 times (one of them at the Norwegian Winnershow)!
Titles won: 2x Se V-11, 2x No V-11, Nord V-11 and Lava also earned her SE UCH and her FDI (Freestyle diploma)!
We had our first Krysarik Litter, wich was only ony puppy and he will stay at home. We named him "Lex Murphy Czech Mate", call name is Primo, and he will be in the showrings next year! =)
2012: We are planning a cirneco litter from Lava by Keios, and also a prazsky krysarik litter. We hope to get more time for agility. And we hope that we will meet all our friends and lots of new friends on many shows!
A million thanks to all our friends and all judges for this amazing year!
We wish all of our friends a HAPPY NEW 2012!!
2011-12-14
We had a great weekend at the Nordic Winnershow in Stockholm!

In the breed judging, Keios got Exc-1, but Lava went all the way with CK and BB-1 and finally won Best of Breed! Nordic Winner 2011!!! =D
The judge really liked Lava, just take a look at the judge's comments on the resultspage… 😉
We also participated in a Freestyle show that was the intro for the finals both days.
It was great fun and a big success, and we were a part of the team that planned the show as well.
The Theme for the show and the whole weekend was "FCI 100 years old".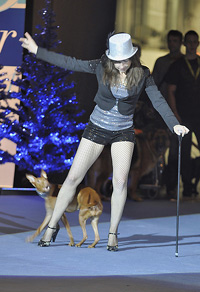 Lava & I represented the year 1941 by doing a Broadway inspired routine to the well known tune "There's no business like showbusiness". =)
Sadly, we won't be competing in freestyle at the MyDog show in january, due to an annoying error in the system. =(
2011-12-05
Back home again after a short weekend in Finland. I had a pleasant stay at Inka's, who opened her home for me and Lava.
The Finnish Winnershow and the Helsinki Winnershow both went "well" for us. Not as good as we wanted, but hey, that's life. On HEL W Lava was BB-3 with R_CAC and R-CACIB, and at FIN W she was again BB-3, now with R-CAC.
So, since we hoped for at least one CAC and/or CACIB, the feeling of stumbling before the finish (finnish?) line was there of course.
On the other hand, we have even more reason to come back again. 😉
Thank you Inka and family for the hospitality!
2011-11-29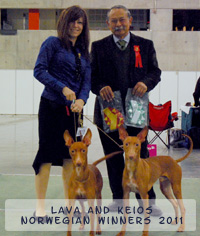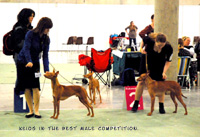 Now is the season of winnershows in Scandinavia. In three weekends, we have four huge shows: Norwegian Winner, Finnish and Helsinki Winner and finally (in Stockholm this year): Nordic Winner.
Last weekend was the Norwegian Winnershow, and both Lava and Keios was entered. The judge was very critical but in a good way, and although we had good competition, we ended up as BOB (Lava) and BOS (Keios)!! Weeei!! They both earned the title Norwegian Winner 2011! 😀
In the prejudging for the finals, the judge looked at the first 7 dogs, stopped at Lava and then stated loudly "this will not be an easy task!" with a big smile. ;D
The finals at this, the biggest, show in Norway are awesome! (sadly I have no pics from the finals). They let all competitors enter one by one, so you are all alone in the spotlight of the otherwise pitch black showring, surrounded by the applauding audience! What a great feeling!
The speaker pointed out again that the judge had said that the group was extremely hard to judge, due to the quality of the dogs.
And it gets better: Lava made the first cut! So we got to run another lap. =D In the final cut of the 6 awarded dogs we didn't make it though, but we are sooooo proud and happy to have made the first cut in this difficult group (many many BIS-winners) at such an important show!
Next weekend we'll see you all in Finland! =D
2011-11-13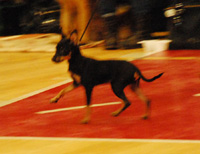 Primo went to his first match show yesterday, he behaved very well and won BOB-puppy. Judges comments: "Exc size, elegant movement, long beautiful neck, strong back. Exc front and angulations. Well presented. Champion quality!"
Those words made me soooo happy and proud! =)
The weekend before this, we went to Växjö INT show. I showed Primo's dad to BOB in a big entry (23 dogs) on saturday. On sunday it was time for cirneco, and Lava was BOB and Keios BOS (4 dogs entered). Thank you my dear friend Renata for company, help, and a great weekend! 🙂
Complete results at the dogshows results page.
2011-10-26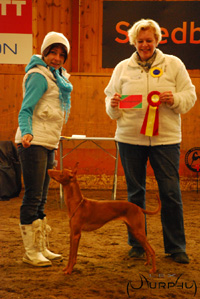 Wohoooo! In Sweden, show regulations state that a dog must be 24 months plus one day old to become a champion.
Lava turned 2 years old on october 15th, and just one day after, she took her champion CAC at the first try!
Lava also had a few CAC from Norway, so she earned both the swedish and the norwegian title at the same day!
Her name will now be: FDI SE UCH NO UCH SE V-11 FI V-10 FI JV-10 NO V-10 Chininas Ursula Un Uragano Lieve!
(She also has Helsinki Winner & Junior Winner titles 2010, but that's not registered in Sweden).
Her total in number of CAC in Sweden ended at 40 (from 46 shows!!!), and I think that's a record that will hold for some time… 😉
Complete results and pics at the results page.
2011-10-11
Another excellent weekend in the showring!
We went to Sundsvall for the INT show and a sighthound specialty. At the INT show, Lava was BOB with CAC and CACIB, Keios got Exc and nothing more. Lava was S-u-p-e-r in the group, but only spitzes was placed (and no shortlisting, booooriiing)…
At the specialty, Keios was BOB (!) and Lava BOS, both with CAC. In the finals, Keios finally loosened up and did really well. In the intermediate finals he placed 2nd, and later in the BIS, he placed third! BIS-3 for little Keios, how great is that!? 😀
Judges comments and pics on the results page.
2011-10-02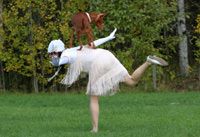 Great updates this time!
Last weekend (24/9) I went to Bollnäs to compete in freestyle with Lava. It was our last chance to take the diploma this year, and WE DID IT!!! With a new personal record for Lava: 25,15 points!
It is the first time that a cirneco earns a freestyle-diploma, and I am soo proud! It is for sure a big difference to train and compete in FS with a sighthound, compared to other working dogs, but nothing is impossible. 🙂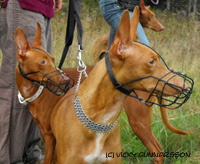 This weekend we tried something new: Lure Coursing. This is the sport that any cirneco should excell in, because it's all about hunting a (fake) rabbit over a field. So Lava and Keios got to try Lure Coursing for the very first time at the VKLC "club championship" (KM). It was also a dog show. The classes were: Puppy, novice, licensed and veterans. Excellent idea with combining show and LC! =) We had so much fun! In the dog show part of the day, Lava was BOB, Keios BOS, and in the "group", Lava placed 4th! =) And in the LC, for the FIRST TIME with muzzle and FIRST TIME at LC, Keios scored 68+76 = 72 points and Lava scored 71+78 = 74,5 points!! =))
To explain how good result it is: To take the CAC, the dog needs 67 points or more.
Needless to say, I am very happy and proud of my two little runners.
I think they will get their licenses in the future, but for now our plans for next year remain the same.
I also took some pics of the krysariks in the backyard this week, you can see them here:
>>September fun in the sun!
2011-09-12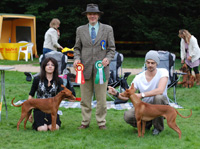 Last outdoor shows was this weekend: Sofiero NAT and Specialty at Laröd. Lava won BOB both days and Keios was BOS both days. In the specialty intermediate finals, Lava was placed BIS-3!!! =)
I've also had lots of interesting talks with friends, judges, future cirneco owners 😉 and other lovely people.
Thank you all for a great summer and hope to see you at the indoor shows at hand. 🙂
This weekend also had a downer: It was the 10 year "anniversary" of the attacks on WTC. My thoughts has been with colleagues who handled the nightmare no controller wants to live through, and with all victims of the terrible acts wich changed the world. We will never forget!!! =(
Results page updated with pics and judge's comments.
2011-09-05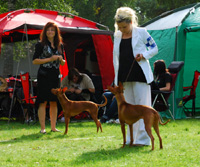 Another really good weekend at the shows, this time at the annual Böda Sand NAT show. Keios was handled very nicely by my friend's daughter Tuva to BOS and CAC, and Lava won the BOB+CAC. In the Group, Lava was shortlisted!! =) She was truly excellent in the finals, although, not placed. I'm very happy for all comments afterwards about her performance, friends, unknown people, judges, they where all so sweet and said they were so surpriced she didn't place. I really want to send big hugs to all of you, the comments really touched me!! Thank you friends, judges and supporters, and a big special thank you to Tuva!!
2011-08-28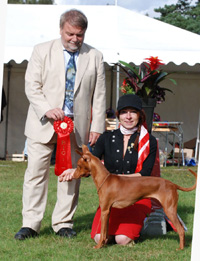 BEST WEEKEND EVER!!!!!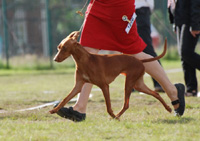 This weekend Lava wrote cirneco history again!
We went to Ljungskile/Backamo to compete in the dual Freestyle competition (Lava & Vilde) and Lava & Keios was also entered to the National Dogshow on sunday. First of all, the freestyle: Lava got 24,05 points on saturday, wich was Qualifying score for class II. She needs Q-points only one more time to get her diploma! On sunday Lava missed Q-points by only 0,2 points, but she'll get it next time. 😉 Vilde got 22,4 and 22,65 in class II, so no Q-point this time for him. He did great though, but we need more difficulties in the program.
And now to the BIG news! Lava was BOB at the show, and in the finals we got shortlisted together with Am. Akita, Basenji and Västgötaspets. The judge seemed to like Lava, and he really did… When the speaker had placed the Basenji and the Spitz, and I stood there with the Akita on my left, I was so happy already that Lava got a second place again. But wait, she didn't!! The speaker started calling out the winner in Group 5: "…and the winner is… CIRNECO DELL ETNA!!" Tears came to my eyes, I couldn't believe it!!! What have we done?! First time ever a cirneco wins the group in Sweden! I was sooo happy! And my friends where screaming! =))
It was a moment I will treasure forever and ever!
And suddenly it was time for us to be a part of the Best in Show, a dream come true! We where not placed, but it was an awesome experience. Lava did soo well, but at this point she really started to get tired (understandable though). It was a weird feeling standing side by side with multi-bis-winners, but hey, maybe that's where Lava belongs..? 😉
Thank you judges, and big thanks to all my friends for cheering, and thanks for all congrats afterwards! Special thanks to Renata, Sofie and Madelene for a super weekend!! All of you contributed to make this moment unforgettable!
We are still on cloud nine, and I hope to stay here a while. More pics, results and comments from the judge are now on the resultspage.
2011-08-22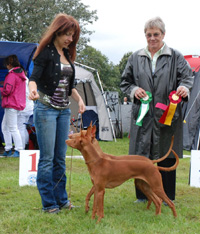 Another GREAT weekend!
We started off at rainy and muddy Norrköping INT show, wich was hosting this years Swedish Winner-show. Keios had tough competition by Jokinen, but still managed to win Best Male! And then Lava won BOB, so BOB+BOS and the titles SE V-11 to Lava and Keios!! Yipppiee!! =)
But why settle? We went further north to Eskilstuna on sunday's INT show, where the result was the same: Lava BOB, Keios BOS, but this time Lava also was shortlisted in the finals!! What a great exclamation point for this super-weekend! Total gain was: 2x BOB, 2x BOS, 4x CAC, 4x CACIB, 2x SE V-11 and a shortlisting.
It's been some incredible weeks, especially for Lava: In just four weekends she's been shortlisted twice (without place) and placed twice in the group (BOG-3 and BOG-2)!! This girl is really representing our breed in the best possible way. Thank you all friends and judges!
2011-08-16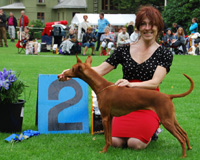 WOW WOW WOW!!!
Lava wrote Swedish cirneco history again this weekend! We went to Askersund NAT and Ronneby INT. At Askersund, Lava was BOB w. CAC, and on sunday at Ronneby INT, Lava was BOB with CAC+CACIB and Keios BOS w. CAC+Cacib. In the finals, Lava first made the cut, and then we suddenly found ourselves in the run-off with the Pharaoh Qiwi! Lava did a great job, ran like a superstar. Lava placed second, wich is the highest placement for a cirneco in Sweden so far!! GROUP-2!!! Wohoooo!!!! I was alone at the shows, so I don't have any more pics. But we are, needless to say, superproud and happy!!! Thank you sooo much to all friends and supporters, and to judges!!! =))
2011-08-11

Yesterday evening we went to the track! It was Lava and Keios first time, so they were allowed to run without muzzles. Keios ran after the lure nicely, but when it stopped he was a bit scared of it. =) Lava behaved like a pro, and she got to try out the "big" lure too. Check out the cool pics here:
>>Lava at the track
2011-08-10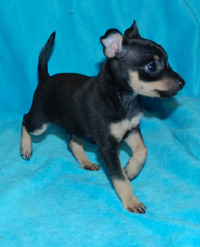 Primo is registered! His pedigreename is "Lex Murphy Czech Mate", and we are soo proud of our first registered puppy in the SKK-register!
He is now 6 weeks old, and is already very mature, jumping around and running like an 8-week old puppy. Still very compact, and with a fitting masculine head. We keep our fingers crossed that this supercute boy will continue his development in this positive way!
2011-08-09
Last weekend we went to Vallentuna north of Stockholm. The cirnechi was entered in the show "Minnesutställningen", wich takes place every 2 years. And our 4-year old longhaired brown krysarik-girl Bambi was entered for muster of the swedish PK-registry. The mustering was open to all krysarik-looking dogs to strengthen the breed and enlarge the swedish genepool.
And what happiness, Bambi was approved!! Of course our co-owner and Bambi's "dad" Calle was extremely proud aswell. =) She will get her own page on our site soon.
Here are the judges' comments of Bambi:
"Elegant, of nice size and collected body. A bit weak upper arms. Well developed chest, good topline. Good tailset. A bit loose elbows and short rear stride. A bit soft coat, and short coat. Good ear fringes. Positive and outgoing. Lots of plaque."
The show results was both good and bad. Lava didn't get CK because she is "missing forechest" (wich is quite funny since the breed shouldn't have too much forechest…), but Keios did well and got another CAC. Also Lava's half-sister Samantha got CK and CAC, wich made her Swedish Champion!! So Lava's loss wasn't in vain, and we are so happy for Samantha! Keios was the judges favourite though, as he won the BOB.
New shows next weekend!
2011-08-04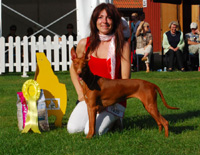 OMG what a weekend we had in Ransäter! The triple International dogshow that had a total of more than 10.000 entries totally (all 3 days). Here are the results on Lava and Keios:
Results from Ransäter INT.
Day 1: Keios Exc-1, CAC, CACIB and BOS. Lava Exc-1, CAC, CACIB and BOB, and GROUP-3!
Day 2: Keios Exc-1, Lava Exc-1, CAC, CACIB and BOB, and made the cut in the group!
Day 3: Keios Exc-1, CAC, CACIB and BOS. Lava Exc-1, CAC, CACIB and BOB.
3xBOB, 2xBOS, 5xCAC, 5xCACIB, 1xGroup-3. Excellent weekend! =))
Thank you to all judges: Per-Erik Wallin, Karl-Erik Johansson, Göran Hallberger, Terje Lindström and Manola Poggesi!
And BIG thanks to Renata, who helped me showing Keios and who took all the wonderful photos!!
The best day was the first day, when Lava, almost exactly 1 year after her first group placement did it again!!! It's the first time in sweden that a cirneco has placed more than once in the group, wich is nowadays crowded with multi-bis-winners on almost every show, this one was no exception. And she placed third again! Amazing, I'm actually still in Aww of her performance this weekend, winning the BOB each day (!!), placing in the group on friday, making the cut on saturday (this day she was actually the only cirneco with CK!). The weather was hot, raining, and hot again, but she faught like a pro til the end. Keios did well too, getting the BOS on friday and sunday, and second best cirneco performance on saturday with Exc-1. Härja was also shown, still not enough developed though, but for training purpose, and she still held her ground. Exc-2, Exc-1 and VG from junior class wasn't bad at all.
Feels like this weekend was another step forward for the cirneco in swedish showrings, and that all the hard training shows and has been worth it! =)
Judge's comments and more pics on the resultspage.
2011-07-28
Revealing our litterplans for 2012! Check out the new page by clicking the sign on the right side of the stage.
2011-07-25

Been to Skokloster Summer Show for the first time! =) It's the biggest specialty show we have in Sweden. Renata came to help with Keios since Anders had to work. I was really nervous, 'cause I never showed for this judge before, and I had heard that he is a tough judge. Keios was first in, and he got his CK, but he almost missed it because of his high front in movement. When it was Lava's turn, the judge started off by complementing her rich color, and ended by saying "That's a R-E-A-L-L-Y nice dog!!" =))
There where 4 females in total, but Lava got the CAC and BB-1 anyway! And also won BOB over Keios! She moved superduper nice today, practicing really gives results… But we were not placed in the finals, who where packed with superdogs. We had a great day, and the judges comments of Lava made the whole trip worth it!! Happy! Thank you Renata for the help today, thank you judge Espen Engh for your nice comments, and thanks to all people that came up and complemented on our dogs today!
(Judge's comments and more pics on the results page).
2011-07-22
Forgot to add the results from Borås NAT, but I did it now and also wrote the comments on a couple of shows. (resultspage, dogshows).
We also competed in Freestyle on july 3rd, with quite nice points from some of the judges, but no qualifying scores this time. =)
2011-07-20

Prinsen is 3 weeks old. He's had his first taste of food, and is running around a bit.
He is developing really good, a handsome little boy.
We've also been to another show, this time the double in Tvååker. Lava was BOB on fridag at the INT show, and Keios took the BOB on saturday. No placements in the group finals, but both Lava and Keios did a good job.
Check out the results page for judges comments.
2011-07-13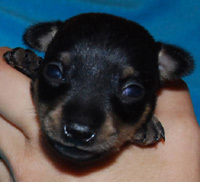 'Prinsen' is now 2 weeks and 2 days old, and he has opened his eyes. He's growing in a steady rate and todays weight is 444 grams!
More pics can be found at our Facebook album >>Puppy Pics
And what about Paris?
Well, Renata and I drove the camping car to Paris and showed our dogs. Lava got the best result with a RCACS on the French Championship Show. The arrangement of the show was a shame, surprisingly bad. And I would lie if I said that the WDS judge of cirneco was objective. But at least the BOB-dog was a nice male. Looked like a male Lava. 😉 But all dogs got Excellent both days. And we saw the Eiffel Tower, l'arc de Triumphe, Notre Dame (the roof), Trocadero, and we had choclate croissants and red wine at a sidewalk café. =) So it was a good trip, and I would love to go back to Paris, just not on a dogshow… 😉
Pics from the trip will come later.
2011-06-27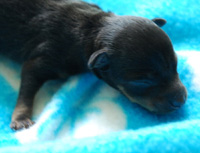 The first litter of Lex Murphy is born! Zelda gave birth to a healthy baby boy. More info and pics will come later.
2011-06-22
Happy Birthday Vilde, 5 years old today!!! My wonderful, amazing superdog! =))
2011-06-19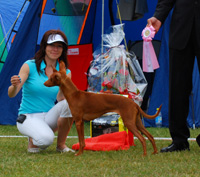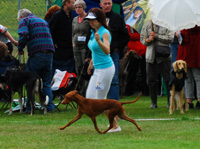 Amazing day at the SvVK Sighthound Sighthound Show in Tånga Hed on saturday, june 18th! (The show is also called "Lilla Specialen"). Both Lava and Keios behaved well as usual, and the judge Francisco Ruiz Rodrigues (Spain) loved them both. He liked Lava better though, and she got BOB, and Keios got BOS again. Both with CAC of course. In the finals, Lava was in the Intermediate finals. Quite a big turn-up, I didn't count the dogs, but between 10 and 15 breeds from group 5 and 10 (mostly 10). Lava ran like a supernova, and earned her place in the cut. There was also a galgo, a whippet and an IG. The galgo placed 4th, whippet on 3rd, and then there was a walk-off (run-off?) between Lava and the IG, and Lava took the best in show!!! Wohooo!!
This was her 2nd time in intermediate class at a sighthound special, and her 2nd intermediate best in show-win! She's sooo amazing!
=) Happy!
2011-06-09
Pedigree on the expected puppies can be found on the Puppies-page.
2011-06-08
Fixed some small bugs, and got the movies section working. If you want to test it out, go to galleries and click on the movies-sign. I would really appreciate any feedback. Also discovered some bug in the guestbook that made it hard to sign, but it's fixed now! So plz leave a message. 😉
2011-06-06
We've been to another show, Vänersborg INT. Lava took the BOB again, and Keios got the BOS. Both with CAC and CACIB. The judge fell in love with Lava, and among other nice things he said "She's got an expression to die for!". That made me sooo happy!! =)
Härja competed in junior class, and got excellent with a 2nd place. I'm very happy with this weekend's results!
Judges comments etc. are added to the resultspage.
2011-05-30
Judges comments from Stockholm INT show (Vallentuna) and Österbybruk NAT is posted on the resultspage (dogshows).
We hade an awesome weekend, on saturday Lava and Keios won BOB and BOS, and I also showed the krysarik "Rocky" (Zeldas "boyfriend") to BOB. Härja got excellent, but no CK.
On sunday we repeated the results from saturday! 4 entered cirnecos both days, and 8+11 entered krysariks.
Big thanks to judges and friends, and an extra thank you to Wiktor Alm who helped me show Keios in the BOB-final on sunday, and to Renata who did the same on saturday.
Congrats to Renata aswell, 2 CAC and BOB+BOS on her junior cattledog Mania!
2011-05-23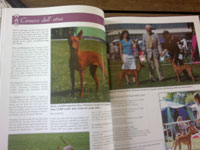 Conclusion of the last month: The Sighthound Yearbook is finally out! Lava was most winning cirneco 2010 with her 13 BOB (competed from end of july!). There were also many pics in the titles gallery of both Keios and Lava. 🙂
May 7th Anders went by himself to a dogshow for the first time. He did great, and handled Lava and Keios to BOB and BOS with CERT (Lidköping NAT). Co-handler in BOB was Jenny Hall, thank you Jenny! Meantime, I was in Prague together with Renata to participate in a huge event: World Krysarik Show 2011! More than 100 krysariks entered! We had a wonderful time, and our dogs did quite well. Zelda got the best result with V2 in winners class (excellent 2). Vilde did a great freestyle performance at the opening of the show. Check the results page for critique.
14-15th of May, I went to 2 freestyle competitions with Vilde and Lava. Vilde wasn't focused enough, lots of stops and no flow. So no good points at all there. But Lava did better, on sunday she got qualifiying points in class one, but we will stay there until we are ready for class 2. =)
And finally 21-22th of May: First a freestylecompetition in Falköping on saturday. It was a nice competition, but unfortunately our warm up was messed up due to several late cancellations and not enough info from the organizer/speaker. So we got the worst scores so far, but in Lava's defense I have to say that she did excellent when we got the program rolling. And she is really starting to get the hang of it now! Looking forward to the next competition, wich isn't until july 3rd in Borås.
On sunday we competed in Hässleholm INT. Keios took the BOB with CERT and his first CACIB! Lava was very tired, but still managed to get excellent and BB-2 with CACIB, and the judge said she couldn't find any faults on her (?). =) Check the results page for critique.
Old news (from the old site)
2011-03-30
A lot has happened again … I wish I could clone myself so I could update my own website at least, haha. =)
The weekend March 20 – 21th, me and Renata went with our dogs to Malmoe INT. Renata's cattledog competed on Saturday, and the rest of the dogs on Sunday. We celebrated in advance on Saturday night, and it proved to be a winning formula. 😉
Härjawas entered in the junior class for the first time, and got excellent with CK! Not placed in best bitch, but I was happy anyway. My dear friend Jenny took best bitch and BOS with Jassi who took her SE UCH, and Renata won the BOB with Rocky! Wohooo! Second best male was Jonna with Zipper, who took the CAC, congratulations to my good friends to your success!
I did of course also compete with Lava and Keios, it was Keios last time in junior class (I won't exploit the new opportunity to stay in the junior class to 18 months). He got Exc + CK, and in best dog he beat the champion male, thus Keios became BEST MALE with CAC! Lava had her first chance at CACIB, she was entered in the intermediate class, and she took it! In the BOB / BOS Renata had to jump in and run with Keios, and Lava won BOB. In the finals, we were not shortlisted, but Lava ran as Legolas, and the judge looked long and well on her. 🙂
The weekend March 26 to 27 was a real killer! On Saturday we had a looong day with the PK-club: specialty show, activities, breeding lecture and Annual Meeting. Very nice day! Härja was placed 3rd best bitch after the "Malmoe weekend" two best bitches! * Happiness *
She did soooo good!
Helena Jankova from the Czech Republic was visiting, and it was so nice to see her again! A really good friend who offers resistance to some interesting discussions about almost everything. 😉
More on the activity day at www.spkk.se.
On Sunday, we moved (after less than three hours of sleep) about 60 km to Strangnas, where SvVK organized a sighthound specialty show.
Keios managed to yet again beat the champion male, but this time he also managed to beat Lava! Keios BOB-junior and BOB, and Lava had to settle for BOB intermediate. Both received CAC of course. During the day, prizes to 2010 top winning dogs were handed out, and Lava was awarded a nice ribbon for "Top Winning Cirneco"!
In the finals, it was Lava who was most successful, although Keios actually was shortlisted in the BIS-final. Lava actually WON the intermediate-BIS! Weeeiii!! =)
Thanks to the judges: Nenne Runsten and Ake Cronander!
Critique and pics on the results page.
2011-02-28
It's about time for an update!
This weekend I and Vilde made our debut in freestyle (dog dancing), something we have been training for the past few months. The theme was "Dracula", which fits Vilde perfect because he has so much commanding presence. The fact that he is quite small, however, makes it a bit comical as well, so we ran with that. =)
We went aaaaall the way up to Timrå, where Matfors BK arranged official freestyle class 1-3 on Saturday, and an exhibition of working breeds. On Sunday it was obedience and match show for all breeds.
We competed in class 1, and there was 11 entered. Unfortunately, there were some late cancellations, but there was finally 7 competitors.
I was mostly nervous about the environment, that Vilde would go into deadlock. However, the result was fantastic! On this our very first freestyle contest, Vilde charmed audience and judges, and finished in fabulous 26.65 points (out of 30 possible), which meant moving up to Class 2, but actually also class winner! The highest individual score was 9,4! What a debut! =)) Do not miss the movie: Vildes freestyledebut
Renata also competed in Class 3 with Sydney with a new program. With a little more training hours, this program will be great, now there was some minor mistakes, and they finished 0.1 (!) Points from the CAC. =( But Renata was pretty happy anyway, her gorgeous young bitch Mania took BOB and CAC at the exhibition! Weeei!
On Sunday we competed in obedience, but because of the fresstyle practice being prioritized over the obedience training this year, the result was accordingly. Actually no disaster, but enough that we would withdraw after some parts. It was cold at the show and Vilde jst didn't have fun.
Härja entered the match show, where she received great reviews and BOB + HP. She did great!
On Sunday many people approached us and commented on the "Dracula-program", how funny is that! =) Little Vilde became a local celebrity. 😉
I've added a new page: freestyle, where you can read more about our training, competitions, pics, movies, complete results etc.
Thank you Renata for the help with the training, all the good advices and tips, travel companion, sounding board etc, etc. Love you!
2011-01-14
Happy Birthday Keios, 1 year old today! You can see a movie with pics from his first year here: Keios
2011-01-12
The year has just begun and we have already participated in two exhibitions. Härja entered puppy class at MyDog, and Lava and Keios entered in junior class at MyDog and SvVKs sighthound special. Summary of the weekend: Härja BOB-puppy, Lava 2xBOB + CC and BIS-junior-3 on the Specialty, Keios 1xBIR + CC. A bit funny that the judge on sunday almost gave Lava the CACIB (so I had to say that she's still too young), but great to know that the CACIB is in reach at least! =) Thanks to judges and friends for a very special weekend!
Check out the videos on the results page, especially Lava's movements in the finals and Härja's great attitude! Our wonderful dogs continues to impress us! =)
We have also embarked upon a new direction in canine sports, but what it is, I won't reveal just yet … 😉
We will now rest from the shows for a while, but we'll soon be back!
2010-12-21
Conclusion of the year 2010:
Zelda has been shown very little, Keios and Lava i puppy och juniorclass, and Härja in puppyclass only. I don't know how many shows we been to (maaany…) or how many miles we have driven (more!), bur we've had fun almost the entire time! =)
Official results 2010:
1 BOG-3, 1 SE UCH, 21 CERT, 1 CAC, 16 BOB, 5 BOS, Norwegian Winner 2010, Nordic Junior Winner 2010, Nordic Winner 2010,
Helsinki Junior Winner 2010, Helsinki Winner 2010, Finnish Junior Winner 2010, Finnish Winner 2010.
Unofficial results 2010 (including specialties!):
2xBIS-1, 1xBIS-4, 1xBIS-R, 1xBIS-junior-R, 3xBIS-puppy-1, 1xBIS-puppy-2, 2xBIS-puppy-3, 2xBIS-puppy-4,
3xBoG-1, 1xBoG-2, 2xBoG-valp-1, 1xBoG-puppy-4, 1xBoG-puppy-R,
4xBOB, 1xBOB-junior, 28xBOB-puppy, 1xBOS-puppy.
Brace: 1xBIS-1, 1xBIS-2.
What to say? Amazing, unbelievable, totally awesome!!! BIG Thanks to all of you who supported us this year, and of course: thanks to all judges!
Besides all these amazing results, we gained many new friends, seen large parts of Sweden, and visited Czech Rep, Norway and Finland.
We wish all of our friends and our families a merry x-mas and a happy new show-year!
2010-12-20
The last show of the year is completed, "Big Stockholm", HUND10, Stockholm HUNDmässa. A beloved child has many names, and it is our biggest exhibition with the most beautiful final ring. Of course, I wanted to show one of the dogs there, but this time it did not work out for us. The judge liked Keios, who was best male with CC. He had nothing bad to say about Lava, but he did not like her tempo and movements in comparison with the other dogs. (She is a little "more" or whatever you call it). Lava instead became second best bitch after Keios sister "Pixie", who also won BOB and thus Keios became BOS. A stressful time is over, it has been maaaaany exhibitions and looooots of club work (we had an expo stand at the show also), but now it's just MyDog in January, and then we'll have a few slow months before it kicks off again.
A summary of the year coming soon!
Movie of Lava from Finnish Winner is now on the results page, where you'll also find the results from Stockholm.
2010-12-15
What amazing dogs we have! I went with my dear friend Renata to Finland (more on the totally chaotic but hilarious journey will come later), to participate in Helsinki Winner Show and Finnish Winner Show.
It was obviously fierce competition, 17 beautiful Cirnechi on Saturday, and 21 of them on Sunday. Keios behaved better than ever, excellent in quality assessment, but saw himself beaten in the junior class of the handsome Vincenzo both days. Lava very much enjoyed the environment, and not only took the lead in the junior class, but also became best bitch. BOTH days! And she was BOS both days as well, although she was a bit tired on Sunday. A superb performance by our little girl, which now holds the titles Helsinki Junior Winner and Helsinki Winner 2010 and Finnish Junior Winner and Finnish Winner 2010! In addition, she won CAC both days. Our wonderful Lava! Keios and I also participated in Marina's breeders group, who went on to the BIS-final. However, no placement there, but what a great feeling to run in the beautiful final ring! (movie will come later). Unfortunately, it was two stressful days, but some filming was done. Will also come later, but right now there is atleast some pictures, and of course the critique, on the results page.
Thank you judges and friends for everything this weekend, and for photos afterwards!
2010-11-28
We came home from Norway with two new titles! Keios is our "hero" this weekend, he won BOB + CAC and by that he took the titles Nordic Junior Winner and Nordic Winner 2010!! Lava did excellent, but was placed third in best bitch competition. =)
Critique and pictures on the results page.
2010-11-23
Last saturday we went to another dogshow, it was snowing so the drive was time consuming. But finally we arrived to the sighthound show in Axevalla. Two other cirnechi was entered. Keios first up, the judge loved him and had a really hard time choosing between him and the other male, but he got placed 2nd best male. He still got exc and CK, so we are very happy with him. =) Lava also got CK, and best bitch with CAC. She was also BOB! This was her 15th BOB and CAC, only 13 months old. She's truly amazing! Next weekend we're going to Nordic Winner in Norway, see you all there! =) Critique and pictures on the results page.
2010-11-08
Another weekend, another show. This time Växjö INT show. On friday our little Härja entered puppyclass, and she did excellent! The result was a well deserved exc and HP (honorary award). On sunday Lava and Keios competed in junior class, and the very nice judge gave the BOB to Lava and Keios was BOS. Both of them handled the indoor environment nicely, and Lava was brilliant in the finals!
Movies and pictures on the results page.
2010-10-20
On October 17th we went to Vallentuna for a sighthound show. The arena was freezing and it was obvious on Keios who entered junior class for the first time. He still got exc and CK though, and when the other male didn't get CK, Keios was best male and received his first CAC! =)
And then it was Lava's turn, and she also received CK. It was supposed to be 4 bitches, but two of them didn't show up. The other bitch didn't get CK, so Lava was best bitch with CAC! This was her 13th CAC. Anders showed Keios in the final to BOS, thus Lava once again was BOB. Movies and pictures on the results page.
2010-10-11
Lava and I went to Sundsvall to enter "Mittnordenutställningen". In our company we had Renata and Queenie. On saturday, Queenie took the BOB and CAC, and so did Lava! On sunday we went to a show outside Sundsvall, a specialty show for working breeds and also all breed match show. Queenie took the BOB and CAC this day too, and Lava was excellent in the match show and won the group and later Best in Show! Huge congrats to Renata and Queenie!! You can find her website on my link page, "Working Mates".
Movie on the results page.
2010-10-02
Finally, the pics from our Summer Tour is up. Highlights is also updated.
2010-10-01
Slight delay on the updates…
11-12th of September we went to Helsingborg to enter a sighthound show on saturday, and Sofiero INT show on sunday.
Saturdays results: Keios BOB-puppy and BIS-puppy-4! Lava BOB+CAC and BIS-junior-R!
Sundays results: Keios BOB-puppy, Lava BOB+CAC. EXCELLENT JUDGE! We had our own cheerleaders too… 😉 Thank you Jenny, Crille and Jonna for the support!
Critique and pictures on the results page.
September 18th we went to a Match Show at Partille BK. Keios was handled by Anders to BOB-puppy and later BOG-puppy-R! Härja did excellent and was BOB-puppy. We'll need to practice a lot on the table though. =)
And then there was Lava. I have been working alot with her since she tends to get over-focused, and I think we have a good concept now. She was first BOB, and in the group she won BOG-1! In the BIS-finals she was excellent, and in the end it was only Lava and a beautiful Afghan left. For the final round I let the Afghan get a head start, and then "released" Lava. What a run! She has NEVER moved like this!! I get sooo happy when I see her move like this, she's fantastic! The judge also liked Lava's movement and gave the red BIS-ribbon to Lava! Best in Show! My beautiful girl! =))
Afterwards, a lot of people came up and praized her movements. She's really something extra… 😉
Critique and pictures on the Match Show page.
The following "old news" are in Swedish only…
2010-09-09
Förra helgen var vi på två stycken inofficiella utställningar. Båda utställningarna var mycket trevliga, och vi hade fantastiskt väder. Anledningen till att vi åkte iväg på inoff helt plötsligt är såklart att lilla Härja äntligen blivit 4 månader, och det var dags för debut! En annan anledning är att man på en inoff kan prova nya saker i sin handling, och kanske slappnar man av mer och har lite mer "kul" med sin hund. Det är dessutom oftast en väldigt skön stämning på inoffar, som inte alltid känns på officiella där det är mer nerv.
Hursomhelst, resultatet ska vi väl meddela också. 😉 På lördagen blev Lava BIR, och både Keios och Härja blev BIR-valpar. (Keios hade konkurrens av sin söta kullsyster Dea). Detta innebar att Anders blev inkastad i finalringen med Keios, eftersom vi plötsligt stod med två hundar i samma final. =) Det gick över förväntan: Keios placerade sig som BIS-valp-2a, och Härja slog till med en BIS-valp-3 på sin allra första utställning! Weeei! =)) I vuxen BIS-finalen blev dessutom Lava BIS-4! Lava och Keios deltog även i parklass, och blev där BIS-1! Full pott minsann.
På söndagen var det även gruppfinaler (inte alltid på inoff). Anders visade Keios redan i rasbedömningen för första gången och blev självklart BIR-valp. Lava skötte sig bra och blev BIR. I gruppfinalen fick killarna ordning på alla snören och ben och showade till sig BIG-valp-1!! Keios vidare till BIS-valp finalen, men hur skulle det gå för Lava? Inte kan väl domaren sätta upp två Cirnecos? Men jooodå, det kunde han! Även Lava BIG-1 alltså! Sedan var det ju lilla Härja som gick för en annan domare. Kaxig som få charmade hon till sig BIR-valp utan problem, men sedan höll vi på att svimma när ÄVEN HON vann sin grupp!! Helt otroligt, 3 av 3 hundar i final IGEN! Valpfinalen var först såklart, och efter att domaren tackat av några hundar stod både Härja och Keios kvar! Det slutade med att Härja även denna dag blev BIS-valp-3, medan Anders och Keios ökade ett snäpp och tog hem BIS-valp-1! Hurraaa! I vuxen finalen blev Lava BIS-R dessutom! Ett nästan pinsamt stort prisberg och totalt 73 kg hundfoder fick vi med oss hem efter denna osannolika inoff-helg. Bilder och kritik på inoff-sidan.
2010-08-31
Lava och Zelda har fått sina titlar registrerade. =))
2010-08-30
Hemma igen. På Gotland blev det 2xBIR+CERT för Lava, och 2xBIR-valp för Keios. Om jag räknat rätt så har Lava nu tagit täten i "Årets Cirneco" (förutsatt att det räknas som tidigare år)! =) Keios går från klarhet till klarhet och har fått suverän kritik. Längtar massor till dess han fyller junior! Bilder och kritik återfinns på resultatsidan som vanligt. Sammanfattning av vår hundsemester (6 veckor, 10 utställningar): 9 BIR, 1 BIM, 10 CERT, 1 Championat, 1 vinnartitel och 10 BIR-valp. Samt fina finalplaceringar på SvVK nn's officiella: BIS-valp-3, BIS-junior-R och BIS-Par-2. Helt otroliga resultat! Vi känner oss otroligt lyckligt lottade som har så underbara och dessutom vackra hundar. 🙂
2010-08-24
Helgen som gick åkte vi till Norrköping på lördagen, där Keios blev BIR-valp och Lava tog sitt sjunde raka BIR (femte i Sverige). Nu ligger hon jämsides med den Cirneco som har lett årsbästa-listan hittills 2010!
På söndagen var det utställning i Eskilstuna. Keios blev BIR-valp igen, och var mycket omtyckt av domaren. Ingen av de vuxna cirnechi som var där fick CK, inte ens Lava. Domaren sa att det var pga att hon inte är färdig champion än (nej, det vore ju konstigt, hon är ju bara 10 månader…). Sånt får man räkna med ibland. Hon hade dock dagens bästa resultat av de vuxna med sitt HP. Kritik etc. på resultatsidan. Synd att Lavas segersvit bröts, men 7 BIR på en månad är ändå helt fantastiskt, nästan svårt att greppa. =)
Denna vecka har vi slagit läger på Gotland, i väntan på Gotlands dubbelutställning sista helgen i augusti. Vi ses där!
2010-08-16
Ojojoj… Helgen tillbringades i Norge på Oslo Double INT utställning på Bjerke travbana. Det var inga valpklasser, så endast Zelda och Lava ställdes. Zelda fick en slät etta på lördagen och blev 3 BTKL på söndagen. Lava då? Jag var lite nervös den här gången, för nu har hon blivit BIR på varje utställning sedan hon fyllde junior, och nån gång måste ju motgångarna komma. Dessutom tävlade hon mot sin egen vackra mor Saga. Sen finns det ju en del domare som ogärna eller inte alls ger CK till juniorer, och det får man ju räkna med att det ska ske nån gång också. Men inte denna helg! På Lördagen var ingen hane med, Lava blev BIR med CERT. Söndagen var det norsk vinnarutställning, och även denna dag slog Lava sin mamma och blev bästa tik. Hanen som hon fick gå emot i finalen leder för tillfället "Årets Cirneco" (flest antal BIR), och har många titlar och championat. Men (med hjälp av fantastisk hejarklack): Lava VANN! BIR, CERT, NORSK VINNARE 2010!! Kritik och bilder på resultatsidan såklart. 🙂
2010-08-09
Nu har vi varit på utställning i Svenstavik, både JHKKs INT utställning och SvVK NNs officiella utställning (samma dag och plats).Detta innebar att Lava och Keios fick gå två rasbedömningar var, och eftersom dessa gick bra blev det även finaler, och vi provade på parklass för första gången! Resultat: Svenstavik INT – Keios BIR-valp, Lava BIR + CERT, SvVKs utställning – Keios BIR-valp, BIS valp 3, Lava BIR+CERT, BIS junior R! Parklass: BIS 2! Zelda fick världens skummaste kritik någonsin, tror vi råkade gå in i fralla-ringen eller nåt, haha. =) Nu laddar vi inför nästa utmaning! Kolla in resultatsidan så länge. 🙂
2010-08-05
Semestern har börjat! Just nu är vi i Norrland. Resultat från Ransäter: Keios BIR-valp, Lava BIR och CERT. Zelda 2CHKL.
Bilder och kritik kommer senare.
2010-07-28
Har skapat en sida med lite blandade vinnarbilder.
2010-07-26
VILKEN HELG! Vi har varit på Köping INT utställning. Lördagen började med att Lava debuterade i juniorklass, och blev BIR och tog sitt första CERT! Därefter Blev Keios BIR-valp, och dagen slutade med att Lava tog PLACERING I GRUPPEN! BIG-3! På söndagen hade Zelda sin första chans till championat, och hon tog den, 2 år och en knapp vecka gammal! BIM, CERT, CHAMPIONAT! Weeei! Kommer sväva på detta läääänge! Resultat, highlights, och hundarnas sidor uppdaterade. Tack alla vänner som gratulerat oss, det värmer verkligen!
2010-07-20
Movies uppe, och massor av bilder på Härja i hennes fotogalleri!
2010-07-19
Tiden går för fort! Massor av nytt har hänt: Zelda har varit i Tjeckien på utställning, vilket resulterade i Vyborny 1 (Excellent och första plac i sin klass), samt CAC! Lava har varit med på flera utställningar (valpklass), med fina resultat, och den största nyheten: Vi har fått tillökning! Äntligen har vår lilla tös kommit hem, efter år av väntan: Härja (Lassie Dar minulosti). Hon har självklart fått en egen sida.
Jag håller på att göra om hemsidan, så ha tålamod med att det är lite rörigt just nu. Det blir bättre! 😉
Våra fem hundar är vår egen Khamsa, och de är våra fem element: Earth (Vilde), Fire (Lava), Water (Keios), Wind (Zelda), and Spirit (Härja).
2010-06-14
Även denna helg har varit fylld av utställning, SvVK's officiella på lördagen, och SvVKs rasklubbars specialer på söndagen, allt på trevliga Tånga Hed.
Det gick över förväntan, på lördagen blev Keios BIS-4 Baby, och Lava blev BIS-4 Valp!! På söndagen gick de i samma valpklass, och Lava blev BIR-valp, och Keios BIM-valp. Därefter blev Lava även BIS-1 Valp.
Kritik, bilder etc. på resp. utställningssidor.
2010-06-07
Helgen har tillbringats i Vänersborg, på NÄKK's nationella utställning. Det var tjejernas helg, så Keios och Vilde vara bara hejarklack. Lava blev BIR-valp med strålande kritik, och senare utplockad till topp 10 i BIS-finalen. Zelda fick en slät etta, vilket var ok, även om man alltid hoppas på det där CERT'et… 😉
2010-05-27
I lördags var vi på inoff i Borås, och det var en helt fantastisk dag! Keios debuterade, och trots att syrran Dea var med och konkurrerade fick han både HP och BIR-valp-rosett. =)
En annan debutant var Anders, som visade fram Zelda till BIR och sedan BIG-4! Som grädde på moset slog Lava till och tog hem BIS-valp-rosetten! Weeei! Hurra för mina vackra duktiga hundar, och för min underbara Anders!
Bilder och resultat på respektive hunds utställningssida. (Lavas sida är uppdaterad med flera utställningar).
2010-05-08
Nu har lillkillen fått ett namn: Keios! Han har såklart en egen sida oxå: Keios sida.
Vi har varit på inoff-utställningar i Vara och Tjolöholm, bara Lava som ställdes. Mer om det kommer på hennes sida. Nu drar säsongen igång, och snart ska Keios vara med på sin första utställning. Förhoppningsvis blir det även lite tävlingar för Vilde under sommaren.
2010-04-19
Nu var det länge sedan det uppdaterades. Följdaktligen finns det ganska mycket nytt! Lavas sida är uppdaterad med nya ståbilder. Nya gallerier finns för 2010, och alla gallerier hittar du här.
Ännu en cirneco har hittat hem till oss, denna gång en liten kille! Något namn har han inte fått ännu, så därför dröjer det lite med hans egen sida, men bilder finns i aprilgalleriet.
27 februari ställdes Lava på sin första valputställning. Hon blev BIG-placerad! Bilder, kritik etc. på hennes sida.
2010-01-11
12-veckorsbild på Lava upplagd.
2010-01-02
Nya bilder på Lava. Länksidan uppdaterad med Cirnecolänkar. Cirnecosidan uppdaterad med texter om rasen.
2009-12-26
Zeldas sida uppdaterad med utställningsresultat.
2009-12-25
Äntligen några minuter över för uppdatering. Vår nya familjemedlem Lava har bott hos oss i nästan 2 veckor redan, och hon passar perfekt in i familjen. Massor med energi och glädje, precis som oss andra. 😉 Vi har firat jul med allt som hör till, och hundarna fick flest paket som vanligt. Nu är det bara en liten stump kvar av 2009 och därmed decenniet, och vi önskar alla vänner ett riktigt Gott Nytt År!
2009-11-30
Länge sedan uppdatering nu, har haft så mycket att göra. Kan berätta att vi snart får tillskott i flocken, ett efterlängtat sådant. Bara veckor kvar nu! Ska bli sååå roligt.
En blivande stjärna hoppas vi såklart, både i utställningsringen och på lydnads- och agiltyplan.
Bilder och mer info kommer! Just nu är vi lite hemliga… hihi!
2009-10-12
I lördags var det dags för LK1 igen, denna gång på hemmaplan. Resultatet här.
2009-09-16
Asch, ny layout igen, haha! Jag tyckte den första var snygg men för mörk. Om ni upplever att sidan ser konstig ut ett tag kan det vara cookiesinställningarna på er dator som knasar så den gamla sidan laddas istf den nya.
Vilde har varit med i LK1 igen, dock inget strålande resultat (skyller på sömnlösa nätter pga löptik…). Zelda har varit på utställning i Sofiero Slottspark, vilket gav ännu en 1:a+CK och denna gång BTKL-R.
2009-09-07
Ny layout! Efter lite experimentering i Photoshop har hemsidan fått sig ett lyft.
Vilde och Zelda har fått nya/uppdaterade sidor också. Hoppas ni gillar den nya layouten, för det gör jag! =)
2009-09-01
Nytt på G…
2009-08-31
Nya bilder från träning, både agility och lydnad! Kolla in Vildes och Zeldas respektive sidor. Dessutom: Vilde & Zelda blir filmstjärnor, kolla här! ;P
2009-08-26
Vilde har startat i LK1 igen!
Resultatet här. Vilde har även börjat på höstens tävlingslydnadskurs.
Zelda har nu börjat på agilitykurs, vilket passar henne som tassen i sorkhålet! Bilder kommer så småningom.
Utställning har det varit också, resultat här.
2009-07-17
Efter ett smärre datorhaveri ligger nu lite bilder o resultat uppe från Tvååker.
Mer här.
2009-07-09
Lydnadsfilmer uppe nu! Se Vilde utföra momenten i LKI här.
2009-07-08
Mycket har hänt! Vilde har startat sin första officiella lydnadstävling (första PK'n i Sverige?). Mer här.
Zelda har tagit sitt tredje CERT.
2009-06-28
Zelda tog sitt andra CERT och blev BIM i konkurrens med 17 andra PKs på Borås nationella utställning på Rydafältet!
2009-06-07
Igår tog Zelda sitt första CERT!
2009-06-05
Nu finns resultatet från SÄKKs lydnadstävling uppe på hemsidan: www.sakk.org
2009-06-03
Ny logo och nytt färgtema på dawgz.se!
2009-05-31
Vildes lydnadssida uppdaterad med protokoll och bilder från vår första inoff lydnadstävling i Klass 1.
2009-05-22
Vildes lydnadssida uppdaterad med bilder från träningstävlingen 25 maj.
2009-05-22
Nu finns resultatet från SÄKKs utställning uppe på hemsidan: www.sakk.org
2009-05-18
Bilder från Hässleholm nat. är upplagda i galleriet, samt Zeldas utställningssida uppdaterad.
2009-05-17
Zelda BIS-1 på SÄKKs inoff!