First show of the year has come and gone! We took home 2 BOB, 1 BOS, 3 CACIB, 1 CAC with the cirnechi, and Primo got BOB-puppy with excellent critique! I am so happy and proud of my little darlings, they all behaved so well these 4 days. But mostly I am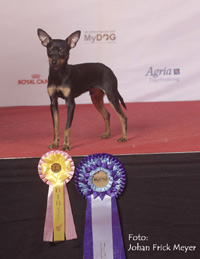 impressed by Primo, who at his first big show behaved like a pro and showed his excellent movement like a star! Watch out for him in the future! 😉
MyDog IV, VAKK 2012-01-08
Judge: Dan Ericsson
PRIMO
Puppy class
Exc-1, BOB-puppy
Comments:
"Tight, nice puppy. Lovely temperament. Nice head. Good legs and feet. Excellent body and topline. Shows himself very well. I hope he doesn't get too big!"
_______________________________________
MyDog III, VAKK 2012-01-07
Judge: Hans Van Den Berg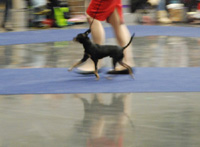 PRIMO
Puppy class
Exc-1
Comments:
"7 months. Could be smaller, but he's lovely in temperament. Head could be more rounded. Good earset and a nice eye. I like his topline and tailset. Excellent color and coat texture. Very nice on the move. Very promising!"
____________________________________________
MyDog II, VAKK 2012-01-06

Status: International
Judge: Espen Engh, Norway
LAVA
Champion
Exc-1, BB-1, CACIB, BOB
Comments:
Very stylish bitch of exc type and total. Classic head and expression. Long neck. Exc body proportions. Moderately angulated in both ends, but balanced. Beautiful color. Moves very enthusiastic and energetic with a stylish frame, but should calm down the front legs.
———-
KEIOS
Intermediate
VG
Comments:
Almost 2 years. Quite big very elegant male. Handsome head, expression and neck. Stands well on his legs. Straight upper arm. Nice underline. Good topline. Gives an overall positive impression in standing, but unfortunately not in movement, where he constricts and lifts his front legs too high and doesn't reach, neither front nor back."
____________________________________________
MyDog I, VAKK 2012-01-05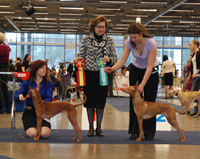 Status: International
Judge: Annika Ulltveit-Moe
LAVA
Champion
Exc-1, BB-1, CACIB, BOB
Comments:
Noble and elegant. Expr. head w. big ears that she uses in a typical way. Elegant neck, tight. Exc silhouette wich she keeps in movement.
———-
KEIOS
Intermediate
Exc-1, BM-1, CERT, CACIB, BOS
Comments:
Tight and elegant. Big ears that he uses in a typical way. Stylish neck, a bit proud of his tail, correct feet. Moves w. light flexible steps. Well muscled.