What a wonderful birthday for the Elements-litter!
As always I was a bit nervous before the judging, this day the judge was Harri Lehkonen, who judged CdE's at the French Championship show at WDS 2011, where Lava was BB-2 with R-CACS from intermediate. No comment cards were written on that show, so I had now idea about his preferences in details.
We got help from lovely Anna Klang to show Leo, thank you so much!
The results in the breed was: Loke BOB and CAC, Elda BOS and CAC, all four got CK! And our groups got HP!
In the finals, we won BIS2 Progeny Group (judge K. Nilson, DK) AND BIS3 Breeders Group (judge E. Liljeqvist Borg)!! Wohoo! Thanks to judges and friends, and extra thanks to Pernilla who jumped in and helped us with Lava in the progeny group!! 😀
The perfect birthday! <3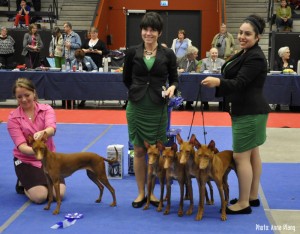 RESULTS
Judge: Harri Lehkonen, FI
LOKE
Junior class: Exc1, CK, BM-1, CAC, BOB
"Very well developed young male. Correct type and size. Good proportions of head and body. Well carried ears. Beautiful eyes. Balanced angulation. Beautiful topline. Well carried tail. Shows with good stature and sound movement."
LEO
Junior class: Exc2, CK, BM-2, R-CAC
"Correct type and size. Correct proportions of head and body. Very well carried ears. Enough angulations in front and rear. Well carried tail. Could have a longer rear stride. Nice temperament."
KEIRON
Junior class: Exc2, CK, BM-3
"Correct size and excellent type. Beautiful head. Very well carried ears. Correct proportions. A bit steep croup. Well carried tail. Back could be straighter in movement and rear movement more stable."
ELDA
Junior class: Exc1, CK, BB-1, CAC, BOS
"Correct type and size. Good proportions of head and body. Very beutiful eyes. Enough angulations in front and rear. Nice temperament. Could have a longer rear stride."
LAVA
Progeny Group-1, HP, BIS-2
"The mother has given her good size and correct type. Very well set ears. All have correct proportions and good tails. Congratulations!"
LEX MURPHY
Breeders Group-1, HP, BIS-3
"Very even group. Correct size. Very nice heads and ears. All have good proportions and well carried tails. CONGRATULATIONS to the breeder!"