So I finally got to visit one of the biggest shows in Europe, some even call it "THE dogshow".
We travelled by car via Denmark, Germany, Holland, Belgium and France. Took the ferry between Calais and Dover. It was a loooong trip, took over 30 hours from my door to the hotel in Birmingham! But with great company, the trip was fun anyway (although in the end, no one wanted to sit in the "bad" seat…). 😀
I went without dog as supporter to my friends who showed basenjis and pharaohs, and they showed on sunday. We arrived on friday afternoon, and after a long doggywalk we went to the lokal resturant/pub for dinner, where most of us had the classic fish&chips, and some of us had sad fried chicken… 🙂
Saturday was the day off, so most of us went to crufts without the dogs for some shoppping. I found some new show collars and new shoes (surprise…). Crufts is really huge, so I'm happy that I went there without my own dogs this first time. There is so much to see, it's like our biggest show in Sweden times 10!
It was a mix of dogs in quality. I saw some of the worst dogs ever seen in a showring, but also some good dogs. I don't know if the KC has its own standards and if those are written without comments on construction for some breeds, really sad to see some dogs. 🙁
But "our" dogs did quite well, Justin and Ruby had  a hard time in the Basenji ring, where the judge seemed to look at other things that IMHO makes a good Basenji.
The Pharaoh had a big entry, over 60 dogs! Sophie took both veteran classes, winning dog res-CC with the male, and for Jenny it was a great day with CC AND res-CC with her two females. She also won BOB with her young female "Qanel".
I got to see the hound group from a nice seat, and took lots of pics. From the 9 shortlisted dogs, 3 represented Sweden (the owners)! Pharaoh, Greyhound and SLOUGHI. Happy for all of them of course, I just think that it's extra fun that the Sloughi got shortlisted since I'm in the board of the club of breed in Sweden. 😉
Congratulations to all of you!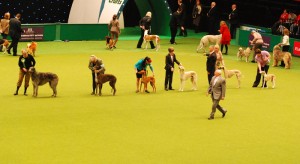 Here the photoalbums from my weekend at Crufts:
Basenjis
Pharaohounds
Hound Group
After a terribly long trip I was home again, and things are happening at home too… You will know when we know more! 😉
This upcoming weekend will be the last show for a while, at least for Lava, so I hope to meet all of my friends there.
Off to packing my suitcase again!
/Maria