Last weekend we made a looong trip, just me, Lava and her kids.
First we went to Sundsvall for the All Breed KC show "Mitt Norden INT".
My mom came there to cheer and she brought Keios. So happy to see them both!
And Britzyk was there working as ring steward, so Keiron was also there. We couldn't miss that opportunity to take a family photo…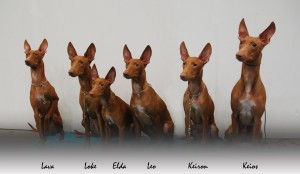 And what about the show? Lava did GREAT! Again BOB, and AGAIN noticed in the finals: Best of Group-3!! 😀
This the 8th show in a row that she has been noticed in the group, placed 5 times and shortlisted three. So amazing!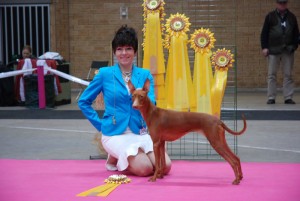 After the show we drove down to Enköping for the Sighthound Specialty (Group 10 + primitive sighthounds from Group 5).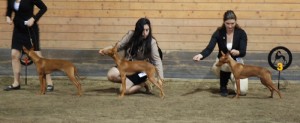 To this show, we had entered all the puppies for the french specialist Evelyne Desquartiers Diacquenod.
The judge was super nice, and seemed to be very excited over the quality of the entered cirnechi, 7 in total.
All puppies got super critique and HP, Loke won BOB-puppy and Elda BOS.
And then it was time for the "combat of the year" – Lava VS Lucky!! 😉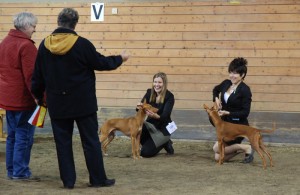 (Lucky del Borgo di Pratica Anharbn – Group Winner in Finland and several group placements).
Both are excellent movers, and I think I enjoyed this BOB-competiotion more than any before. Such a joy to run against so tough competition! 
Well, the judge finally had to make a choise, even if it was very very hard – And LAVA WON!! Whohooo!! 😀
Plus, it was great to meet my dear friend Inka (Iosono Cirnechi and IG), who at our last meeting in Finland won it all. So now we are even. 😉
After a little wait, it was time for the BIS-finals. Loke first out in Best Baby, judge was Ann Cuthbert. I don't think I've ever seen so many babies on a specialty, usually it's 3 or 4, but this time must have been 10 or so.
He behaved like a pro, and to our absolute delight and surprise, he was placed 2nd!!! Weei!! 😀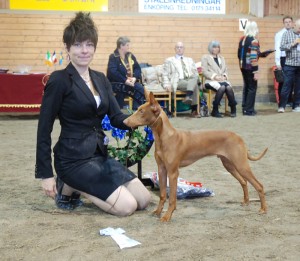 But the success doesn't end there: In the BIS final, Lava was first shortlisted to top 4, and after a thrilling final run, judge Ray Lindholm placed us Americano Style, in running order – Lava BEST IN SHOW-3!!! 😀 😀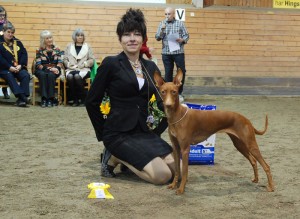 I am so very very happy and grateful to all my friends who cheered us on, and to the judges who appreciate our dogs!
If you have read this far, don't stop! Below are the results and judges comments from the specialty, and Lava's is the kind you'd want to put in a frame…
RESULTS
MittNorden International, VNKK 2012-10-13
Status: International
Cirneco dell'Etna
Judge: Luis Gorjão-Henriques, Portugal, Group judge: Arvid Göransson
LAVA
Champion class
Exc-1, BB-1, CACIB, BOB, Best of Group-3!
————–
Sighthound Specialty Enköping, SvVK/Östra 2012-10-14
Status: National/Specialty
Cirneco dell'Etna
Judge: Evelyne Desquartiers Diacquenod, BIS-BABY judge: Ann Cuthbert, BIS judge: Ray Lindholm
LOKE
Baby Class
Exc-1, HP, BOB-puppy, BIS-puppy-2!
Comments: "Very typical head. Excellent ears, eyes and expression. Excellent construction, substance and bones. Excellent feet. Excellent topline, underline and angulations. Excellent movement, fine and happy."
LEO
Baby Class
Exc-2, HP
Comments: "Typical head, excellent teeth, eyes and ears. Excellent substance, bones, topline, underline and angulations. Excellent happy movement."
KEIRON
Baby Class
Exc-3, HP
Comments: "Typical head. Excellent teeth, eyes and ears. Excellent topline, substance, bone and angulations. Nice Movement."
ELDA
Baby Class
Exc-1, HP, BOS-puppy
Comments: "Very nice feminine, typical head. Excellent teeth, eyes and ears. Excellent construction, substance and bones. Nice movement."
LAVA
Champion class
Exc-1, BB-1, BOB, Best In Show-3!
Comments: "Absolutely perfect type and construction. Excellent movement; free, active and typical."

"Fantastic weekend, Sundsvall INT All breed KC show on saturday: Lava BIG-3!!
Sighthound Specialty in Enköping on sunday, all our CdE-pups entered: All got HP and Loke BOB-baby and BIS-2-baby!!!
Lava in a fantastic BOB/BOS against Lucky, won BOB! And later BEST IN SHOW-3!!!
Thank you all <3<3<3" From Mittnorden INT + SvVK Enköping, posted by Maria Weinehall on 10/15/2012 (40 items)
Generated by Facebook Photo Fetcher